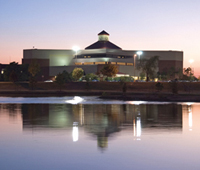 Students — new and returning — can find several campus departments on popular social networking sites like Facebook and Twitter.
The sites are designed to help keep students aware of upcoming events, breaking news and weather warnings, among other things.
Facebook is a valuable resource for keeping in touch with students who aren't or can't be on campus.
Some departments also have Twitter accounts. Twitter updates can be sent directly to students' cell phones.
Online Marketing Coordinator John Richardson, who updates OCCC's Facebook and Twitter accounts and manages the Campus Alerts Network system, said it is the immediacy of social networking that appeals to students.
Richardson said OCCC's Facebook page, located at www.facebook.com/otriplec, has been in place since July 2009.
During that time frame, he said, the page has accumulated more than four thousand fans.
"We have a great variety of things that we are posting," Richardson said. "A lot of it has to do with events that are upcoming, our news releases, and date-specific things that students need to be aware of.
He said the Facebook page also is used for emergency communication, and can be updated even when campus is shut down.
In addition to postings made by the college, Richardson said, posting on the Facebook page's wall has become a popular outlet for students to ask questions.
"I'm actually really glad that that's happened," he said. "We want students to have the feeling that the Facebook page is an avenue for them to get quick answers to questions or problems they have. If we can get answers, we will post them there for others to see as well."
However, Richardson said, that doesn't mean a student should worry if their question involves sensitive information like passwords or transcripts.
"Depending on the confidentiality of the information, we will take the conversation offline and do it through e-mails or phone calls," he said.
Richardson said the number of postings made daily to the OCCC Facebook varies based on the time of year.
"Since the end of the spring semester, we don't post as frequently. There might even be a day or two where we don't post anything at all," he said. "But some days, we'll post as many as four or five different items."
Although the college Facebook sees the most traffic, Richardson said OCCC also utilizes a Twitter account, located at www.twitter.com/otriplec, which went live in March 2009.
In addition to linking to many items posted on the Facebook page, he said, the Twitter account is frequently updated with information regarding the academic calendar, such as the last days to drop classes and other important dates.
Richardson said updates to the Twitter account can also be directly sent to a cell phone by texting "follow otriplec" to the number 40404.
He said students also can receive phone alerts by signing up for OCCC's Campus Alerts Network, which was implemented last fall.
Students can access the system by visiting emergency.occc.edu and log in using their MineOnline username and password, Richardson said.
To begin with, he said, the system is linked to a student's OCCC e-mail account. After logging in, however, students can add additional e-mail addresses or cell phone numbers to receive e-mail and text alerts regarding emergencies on campus.
Richardson said the system is used "whenever there is an emergency type situation on campus that we think the college community needs to know about."
"When OCCC recently closed because of storms, we stayed and sent those messages so that everyone knew the college was closing at 4 o'clock," he said. "Nothing but emergency and alert type information will be sent using the Campus Alerts system."
From important dates to hours of operations, OCCC's Bursar's Office also posts a variety of items on their Facebook page to keep students informed, said Bursar Brandi Henson.
Henson said the Bursar's Office Facebook page, located at www.facebook.com/occcbursar, was started last year and has since garnered more than 5,000 hits per month.
Regular postings include due date reminders, upcoming activities, holiday messages, closing announcements, and extended hours announcements, she said.
"I think the page has been pretty successful," Henson said. "We don't get a lot of comments on the page, but I believe that is due, at least in part, to the type of information we post, which is mostly information and reminders."
Student Life uses its Facebook page, www.facebook.com/occcstudentlife, to remind students of upcoming events, said Jill Lindblad, Service Learning and Student Life Programs coordinator. The OCCC Student Life page also updates on weather warnings.
"We also try to post extra information that is helpful to students," Lindblad said. "We get student questions every now and then.
"It's really easy for me to answer them because I'm at my computer all day. It's a really useful tool for people who aren't on campus and can't get here."
"We would love more questions," Lindblad said. "We love our Facebook."
Student Life also has a Twitter account, OCCCStudentLife.
The Keith Leftwich Memorial Library updates their Facebook page, www.facebook.com/occclibrary, with hours, reading suggestions, polls and tips, and more.
Amanda Lemon, electronic services/reference librarian, uses the Facebook page to share the library's blog.
Lemon said blog topics have included finals tips, new items in the library and tips on where to find certain books or study rooms.
The blogs are written by members of the library staff.