OCCC to consider name badges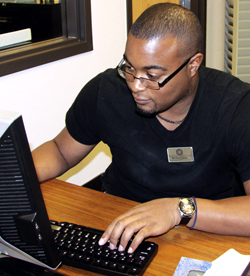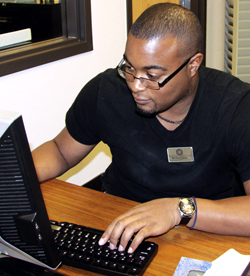 Durell Carter, literature major and Student Employment and Career Services employee, wears a staff name badge while he works on campus. The Timely Emergeny Communications Taskforce has recommended all college employees wear name badges somewhere visible on their body by fall 2011. (Whitney Knight/Pioneer)
OCCC employees may be wearing name badges soon, as part of a recommendation made to the college by the Timely Emergency Communications Taskforce.
The recommendation came after a shooter scare Feb. 26, said Student Services and Enrollment Vice President Marion Paden, who co-chaired the taskforce.
The incident involved a report of a gunman in the Keith Leftwich Memorial Library on campus. At that time, no college policy required faculty and staff to wear name badges, according to the list of college policies and procedures on the college's website.
The task force — which was made up of college staff, administrators, students and faculty — calls for all employees to be required to wear name badges somewhere visible on their bodies.
However, the group asked the college not to enforce the recommendation until fall 2011 at the earliest.
Paden said she thinks name badges are a good idea because students and guests often come in contact with staff members and faculty they may not know.
Student Life Assistant Marcy Roll also thinks name badges are a good idea.
"Name badges allows you to put a name to a face," Roll said.
She said she has always worn a name badge, and all the staff in her department wear them although they are not required to.
The name badges are gold colored with magnetic backs and cost $7.50 each, said Sara Hill, OCCC Bookstore employee.
Within the past month, an estimated 30 name badges have been sold, she said.
While employees are only recommended now to wear name badges, some OCCC departments such as Safety and Security are required to wear them, Safety and Security Coordinator Keith Bourque said.
However, not all are in favor of the name badge recommendation.
Student Marci Howard, said she does not think the name badges will have an effect.
"I feel a little more at ease if I see a name badge," Howard said. "But I figure if someone were to come on campus, they could find a way to do something bad."
To contact Cassie Stegall, email onlineeditor@occc.edu.