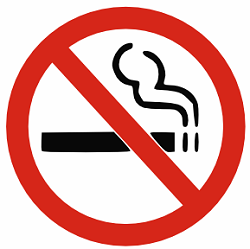 Students, staff and visitors will soon be banned from using tobacco on campus.
The OCCC Board of Regents adopted a resolution June 21 to support the development of a policy that would make all college properties tobacco free.
The regents have not set a date for the policy to go into effect, President Paul Sechrist said in an all-employee e-mail.
Sechrist is on vacation and could not be reached for further comment.
As the policy is crafted, college administrators will involve students, faculty and staff to help create an implementation and enforcement plan.
Sarah Belcher, a student who smokes, said she doesn't believe smoking on campus is a problem.
"I understand that people who don't smoke don't want to breathe it on their way inside, but I don't think this is a solution," said Belcher, engineering major.
"Smokers should just move away from the buildings."
Currently, OCCC prohibits smoking inside campus building and college-owned vehicles. Smoking also is illegal within 25 feet of any building entrance.
Kelsea Burton, film and video major, said she is relieved to hear the campus will move toward a tobacco ban, since she is allergic to smoke.
"Even with the 25-feet rule in place, no one really followed it," Burton said. "The smoke always gagged me on my way inside."
Ike Sloas, Safety and Security director, said no enforcement plans are in place.
Sloas said he wasn't aware the tobacco ban issue was even up for vote at the regents meeting until Sechrist sent the e-mail to staff and faculty members.
"We haven't talked about it yet," he said. "No decision has been made."
However, Sloas said, he anticipates Safety and Security will be in charge of enforcing the ban on campus.
"We will follow whatever instruction the administrators give us," he said.
Greg Gardner, Academic Affairs associate vice president, said he finds the number of college students who smoke concerning.
"I can't talk, because I did it too," Gardner said. "I smoked for many years."
He said the college is moving in a positive direction.
"Anything that promotes good health, anything that can get students to stop smoking, even for a little while, is a great thing," Gardner said.
To contact Whitney Knight, email onlineeditor@occc.edu.