OCCC Theatre Presents Euripides' Medea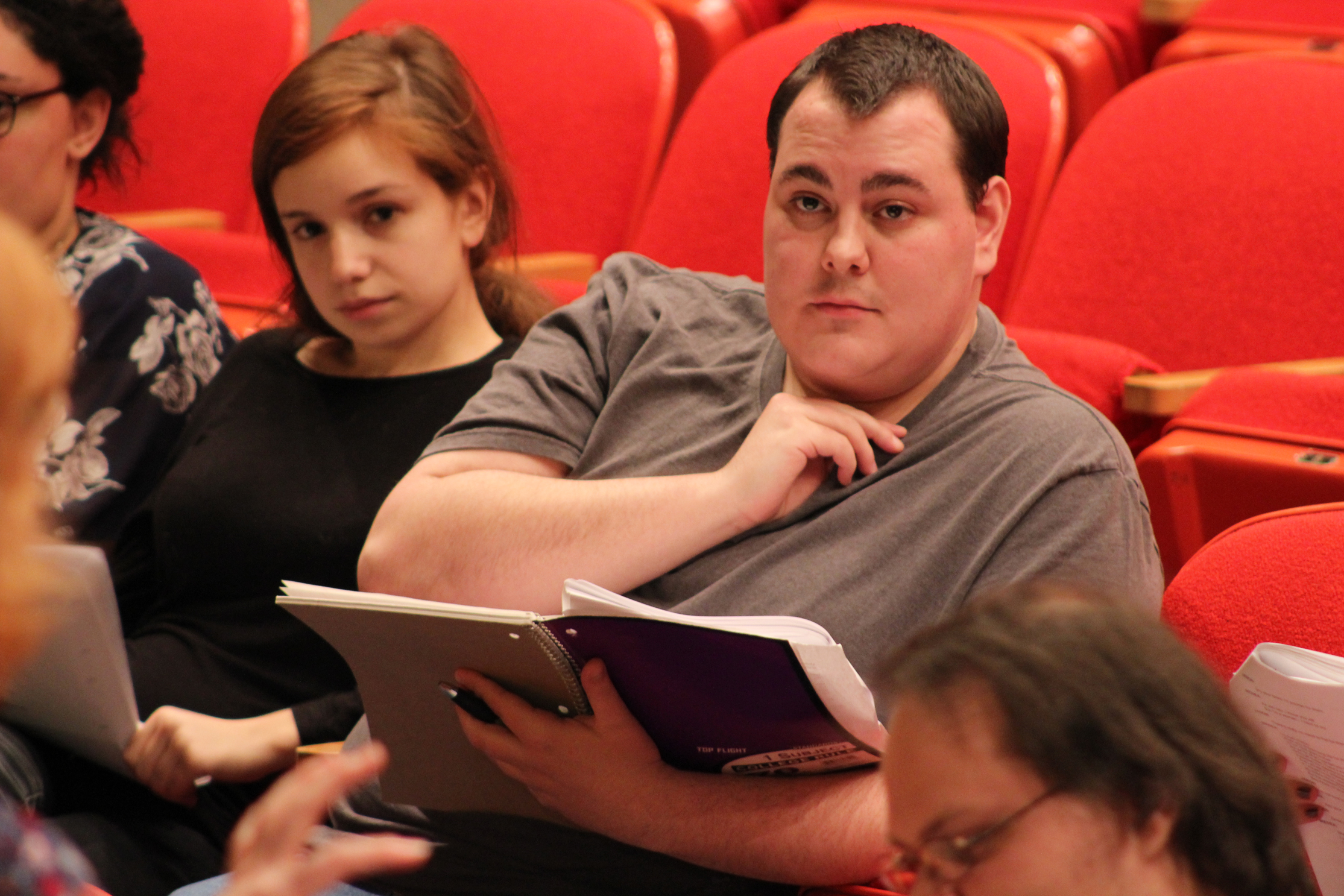 Oklahoma City Community College will present the Greek tragedy "Medea," the story of an exiled mother and princess banished by a general, who is bent on seeking revenge. The performance is set for 7:30 p.m. March 2 through the 4 at the school's Bruce Owen Theater.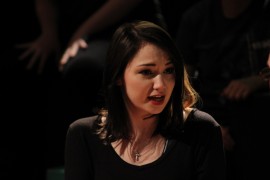 Lead Actress and Theatre major Megan Rich expected the melodrama and anger for a part like hers, but as she learned more about the show and her character, she switched her focus.
"Coming to do the show, it turned into sorrow and pain more than anger. I mean there's still shouting throughout like, half the production, but it's really cool to see the layers of the character unfold," she said.
Rich described Medea as "mother murderous." She said the character's determination brings her to banishment but for understandable reasons.
"Medea is incredibly passionate and that passion overtakes her, which is something a lot of people can relate to. When we are passionate about something we sometimes don't know how to handle our emotions, and Medea just doesn't care," she said.
Even with the dark tone of the play, Rich said she's had a wonderful time working with Production Director Rachel Irick and the rest of the cast.
"I've never worked with Rachel before. I love her vision and I love being able to explore this type of production. The cast are incredibly hard working and they're all very talented. It's pretty awesome," she said. "Everyone is having fun, even with how heavy and how dark this is, and I think that's the most inspiring thing in the entire production."
Theatre major students Kala Anderson and Kyle Yount have much theatre experience, but didn't know what to expect of the process since they have never acted in a play of this style before.
"I didn't really know what to expect since I've never worked with Rachel before, the director, and I really love her she's awesome," Yount said. "When it's time to work it's time to work, but she's also really chill, laid back, and easy to talk to. She lets you explore and play with the character. I'm really enjoying this production. I think we're doing a lot of cool creative things with this text written so long ago and we're bringing it into the modern world."
Anderson said she's been in seven shows excluding Medea. She recalled auditions and how different they were to her.
"I've done a lot of shows. All of those auditions have been cattle call or cold readings, but we got to dance and speak in front of a mirror which was really cool. I'm having a really good time, I expected it to be less fun," she said.
"I've never done a Greek tragedy, and the level of emotion in this show is so intense, it's something I've never experienced before. I traditionally do comedic roles, so it's been challenging. It's super intense; you come on screaming and you don't stop for an hour."
Yount said the practice and memorization for the part was daunting, especially for the lead and the chorus girls. "The chorus girls have to know their lines, and they have to know all the rest of the chorus lines because sometimes they speak together, sometimes they speak alone. Plus they're on stage pretty much the whole time."
Being part of the chorus, Theatre Major Alexandra Espinoza said Medea is her first time being in a big production. Her role is shared with more than seven other actresses performing as one entity.
"For me, this is my first play. It's been good for a new experience. It's been harder to memorize the lines than I thought, but I like it so far. Rehearsals are scattered. Not everyone rehearses at the same time, which has been hard. The chorus is stationary throughout the play so you're in most," Espinoza said.
Theatre Professor and Production Director Rachel Irick said it has been an interesting journey for the cast and herself.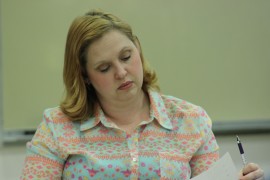 "I have my own ideas on how to present the show, but as we get into rehearsal and the actors bring in their inspiration, everything comes into clearer focus and everyone works together for the production, not just my show," she said. "Most people like to summarize Medea as just being about revenge and hate, but that's not something that we really want."
Irick said she wants to use the script and actors to give the audience more of an understanding of Medea and her actions throughout the play, however grim they may be.
"Digging through the show and through the script and understanding what it's about, you see that she does love her children, and she does love Jason, but she has nothing left," she said. "She's hurt so deeply. She's torn apart so savagely inside that there's absolutely no way for her to restore balance. The Greeks were all about the gods restoring balance, and the fact that she has been betrayed has thrown her whole family and her whole world out of balance."
War and unrest in the Middle East has really had an impact on the perspective and direction of the play according to Irick. She said she thinks a lot of what's happening in the world right now and how Syrian children are being sacrifices of war for things out of their control.
"They're victims of the adult decisions around them–Kreon and Jason being the male dominated war mentality, with women and children being nothing," she said.
The modern view on war is something Irick said she wanted to approach for the production.
"That's what I'm trying to create, so that there's a consistency with what we think of as a war-torn desperate situation for women and children to be in," she said. "Kreon throws Madea out. To have no citizenship, what does that mean? What does that mean to your children? You have to leave the country, you have to protect your children, but no one wants them. No one will take them. What kind of existence is this?"
"Medea chooses to make a short end of her children's life instead of having them suffer."