OCCC student running for state senate seat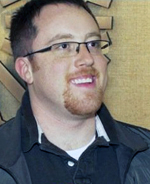 File Photo/Pioneer
Kenneth Meador
OCCC student and political science major Kenneth Meador is the only Democratic candidate running for a state senate seat being vacated by Sen. Jim Reynolds, who will resign July 1 to become Cleveland County treasurer.
Reynolds is a Republican who represents District 43, which includes southern Oklahoma County and northern Cleveland County. This special election will be for a one-year term.
Meador, 30, will face the Republican candidate who wins the primary election on Aug. 9. The general election will be Oct 11.
Meador said his campaign will focus on the middle and working classes. Also, he said he will work against the "attack on senior citizens" that has been going on at the federal and state levels.
In 2009, after eight years of service in the U.S. Army as a combat medic and three tours in Iraq, Meador said he enrolled at OCCC at the behest of his wife.
Shortly thereafter he became active in the student leadership by revitalizing the College Democrats, a student organization that had declined prior to Meador becoming its president.
He also joined The Leadership Council, OCCC's equivalent to a student council, which he was elected to chair this fall. He is a member of Phi Theta Kappa honor society for two-year colleges.
In February, Meador was invited to speak at Higher Education Day at the state Capitol.
"OCCC is a place that will give you opportunities for leadership with its student organizations and great work in the community," Meador said. Despite the campaign, Meador said that he does not intend to drop the 10 credit hours he is enrolled in for the fall semester, should he win.
Conversations with fellow College Democrats about Meador's character centered leadership.
"Everything about him says he's a great leader," said Jorge Krzyzaniak, club member.
"He works crazy hard and is always doing something," said vice-president Heather Nicole Poile. "We go to school and we have these dreams about a future and Kenny is reaching for those dreams now."
Javier Mabrey, OCCC political science major, expressed his support for Meador.
"He is qualified for the position, a great representative and a good voice to have in the senate," Mabrey said.
For now, District 43 is bordered by Northeast 10th Street and Reno Avenue on the north, Southwest 104th Street and Southeast 19th Street in the south, Sooner Road to the east and a gerrymander list of streets to the west, going no further west than Western Avenue.
The district has been redrawn and will no longer exist in its current boundaries after the 2012 elections, according to the Oklahoma State Election Board web site.