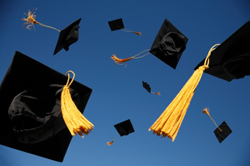 Most OCCC graduates are satisfied with their college experience here according to a survey of 2011 graduates.
The annual "Report on the FY2011 Graduates" was recently released by OCCC's Institutional Effectiveness Office.
Effectiveness Director Janet Perry said the overall goal of the survey includes the following:
• to see where OCCC's graduates are six months after graduating from OCCC.
• find out if they have continued on to another institution.
• to see if they are working in their degree field.
The survey response rate was 51 percent which, Perry said, is good. She said most survey collectors would consider a 30 percent response as golden.
Perry said when OCCC first started sending out the surveys 10 years ago, the response rate was just 12 to 17 percent.
The survey, sent out to all OCCC graduates by mail six months after each graduating semester, consisted of 17 questions relating to educational and employment information and a summary of a graduate's overall experience at OCCC.
Of the 686 graduates who responded, 354 reported being enrolled at another institution of higher education and most reported having no trouble transferring their OCCC credits to that institution.
Just 10 respondents reported having difficulties transferring some of their credit hours, according to the report.
A large group of graduates also reported they were working at the time of the survey.
That group includes 365 graduates employed full time, of which 225 graduated with either an Associate in Applied Science or a certificate.
Many graduates are employed by health-care providers such as OU Medical Center, Norman Regional Hospital and Integris Hospitals.
The number of graduates whose present occupation is directly related to their degree or certificate completed at OCCC is 233 of the 365 or, 63.8 percent.
Graduates also were asked to rate the preparation they received at OCCC in relation to its usefulness in performing their jobs. Most responded that their training had been very good with a mean of 8.56 out of a 10 possible points.
Many who completed the survey are first-generation college graduates.
About one-third of the respondents — 136 of 383 — reported they were the first in their family to earn a degree.
When asked if they would recommend OCCC to a friend, almost all of the graduates — 671 of 676 — said they would.
"OCCC graduates were satisfied with their educational experience and preparation for careers and transfer institutions," according to the report.
One respondent gave high marks to the college.
"I think that OCCC is a wonderful place to begin an education."
Perry said the college tries to persuade every graduate to respond to the survey.
The first mailed survey is sent with a postage-paid return envelope.
If OCCC does not receive a response from that survey, Perry said, the Institutional Effectiveness staff then sends out a second survey.
On those, the staff applies actual stamps to the return envelopes to give them a more personal feel in hopes that graduates will feel more inclined to respond.
The process to receive responses does not end there.
If the first two attempts do not work, postcards are sent signed by faculty who taught the graduate, reminding them to respond, Perry said.
Finally if all attempts made by OCCC do not prove successful, Perry turns it over to a survey company who calls, emails and mails the graduate.
"This process does not end," she said.
Perry said she can't stress enough to all graduating students how important the surveys are. She said she encourages everyone who receives one to fill it out and return it.
"Graduate Survey results are used to improve programs, so be sure to fill out the survey when you receive one," she said.
To contact Sarah Hussain, email editor@occc.edu.