OCCC Professor Honors Osage Author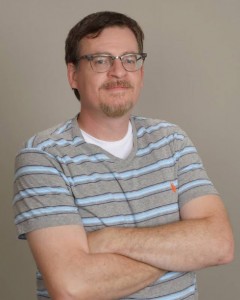 Oklahoma City Community College English professor Michael Snyder says the Osage culture today is thriving and vibrant.
Snyder recently wrote a book about John Joseph Mathews, an Osage Indian who contributed to Osage culture as a renowned author, naturalist, historian, and a tribal preservationist in the twentieth century.
Snyder considers this book his best work on Mathews.
"I want people to know that he was a great writer, and his books are compelling," he said. "He was a complex person but a fascinating guy."
In his biography, "John Joseph Mathews: Life of an Osage Writer," Snyder describes Mathews' colorful life in depth and provides information about his family that has never been published.
Mathews attended the University of Oklahoma, majoring in Geology. In his junior year, he enlisted in World War I and later became a flight instructor. After he returned to OU, he attended Oxford to earn another degree. Later he would serve as tribal councilman and historian for the Osage Nation.
At OU, Snyder said, people encouraged Mathews to become a writer.
"Walter Stanley Campbell, who wrote books under the name Stanley Vestal, started what became the professional writing program at OU and was a mentor for Mathews," he said. "Joseph Brandt, the first director of the OU Press, and OU President William Bennett Bizzell, who established it, also encouraged him to write."
Mathews' autobiographical works, "Sundown" and "Talking to the Moon," are assigned at OU in English and Native American studies, where Snyder first discovered Mathews.
"I was already interested in Native American culture, but hadn't studied it in a serious way until I was a graduate student at OU," Snyder said.
Snyder had taken a Native American critical theory course, taught by Craig Womack, a Muskogee Creek scholar, and other related courses that taught about Mathews.
He also befriended an Osage woman, Veronica Pipestem, who took him to his first I'n-Lon-Schka dance, a ceremonial Osage tradition. Russ Tall Chief, a professor, playwright, traditional dancer, and who wrote the foreword to Snyder's book, has hosted him several times as well. "The I'n-Lon-Schka dances are bigger and beautiful, and seem to be more popular," he said.
Before this book, there was no information about Mathews' two marriages and his relationships with his children and stepchildren. Snyder managed to be the first to uncover that.
"I just did extensive research. I made some phone calls, and I think nobody really tried to track down his granddaughters, his son, and his daughter-in-law," he said. "I interviewed two of his granddaughters, talked to a niece and a nephew, a great-niece, and really anybody I could track down. I tried to talk to living relatives because nobody had done that."
Snyder also had a chance to meet with Mathews' son, John Hopper Mathews, in Pennsylvania before he passed away.
His next book on Mathews is called "Our Osage Hills." It is complete and is currently being edited.
It contains Mathews' best newspaper columns, called "Our Osage Hills" that he wrote for the Pawhuska newspaper.
"I've collected the best of them, typed them up, and written a series of commentaries and articles on it," he said.
Snyder said the articles look at things that he references but also examine what's going on in the newspaper, local history, the Osages, and the southwest of Oklahoma. "There's also things about Will Rogers, other writers, the Tall Chief family, and the Red Eagle family," he said.
You can find "John Joseph Mathews: Life of an Osage writer" at local stores, on Amazon, and at the OU Press website.
"Hopefully it'll draw attention to Mathews, which will draw attention to Osage history and land and so forth," Snyder said.