OCCC police officers run in relay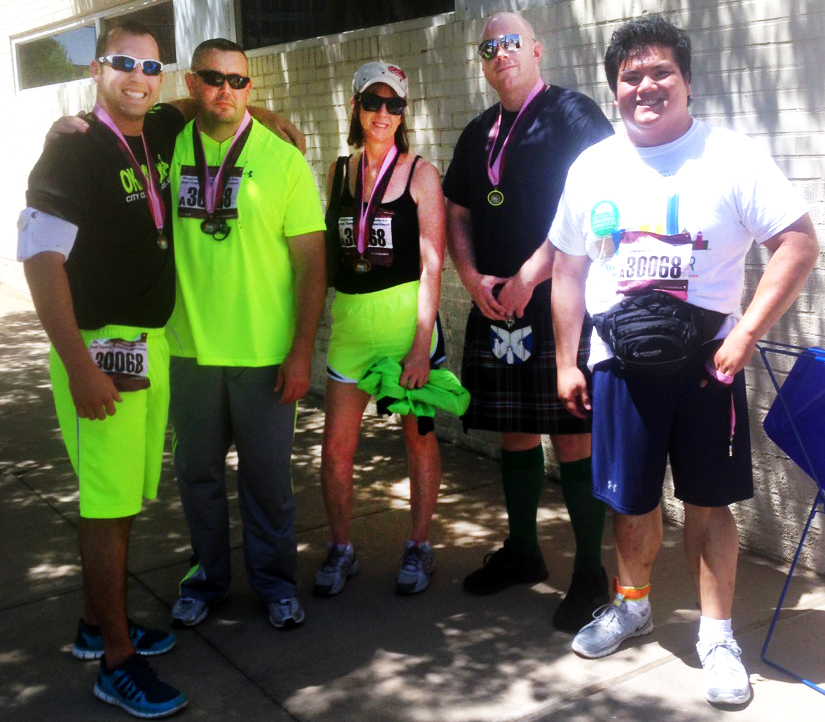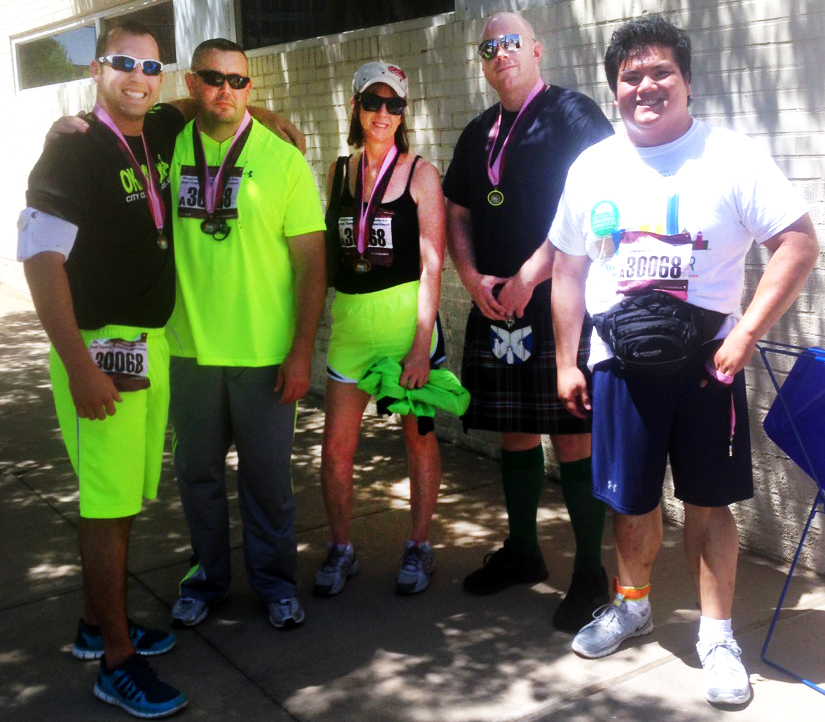 Some OCCC police officers took to the streets of Oklahoma City April 27.
Sgt. Kevin Hammond, Police Assistant Kandi Kovelda, acting Sgt. Daniel Piazza, Officer David Madden and Dispatcher Van Ninh all ran in the relay portion of the Oklahoma Memorial Marathon that day.
Hammond said he was the driving force behind the group deciding to join the run. He said he wanted to be part of the run for many reasons: it was for a good cause, it's good for team building within the department and it's a great way for the crew to stay in shape.
However, there was a point when he wasn't sure the run would happen. Storms that morning led to a two-hour delay.
"I am just really happy that I got the opportunity to do it," Hammond said.
Hammond was second in the relay, running about 3.1 miles.
Police Assistant Kandi Kovelda halfway jokingly said she ran in this year's relay "because there was a blank spot and nobody else would take it."
Kovelda, the third runner in the relay, ran 7.3 miles.
"I really enjoyed it," she said. "I walk about three to four times a week and I really like stuff like this.
"The greatest part of the whole experience was running through neighborhoods, and people would stand at the end of their driveways and cheer you one."
Madden said he ran in the relay with the department solely for fun. He has competed in the Dirty30 run as well as Conquer the Gauntlet run in the past.
He was the starter in the relay, running about 6.2 miles.
"This was my first marathon so it was shocking how many people showed up and the amount of support for all of the runners," Madden said.
Piazza was the fourth runner in the relay race. He said he joined for the comradery among his team.
He ran about 3.1 miles.
"I have never ran in a marathon before," Piazza said. The overall positive attitude of everybody and the amount of support was so great. It really impacted me."
Van Ninh said he took part because his team encouraged him to.
"They made me or well, talked me into it," he said.
Ninh ran fifth in the relay, running about 6.2 miles.
"I had to start training for this about 6 months ago, he said. "I have never done a marathon before but I have competed in Tough Mudder. Running in the marathon was not as bad as I thought it would be.
"As a whole we had a lot of fun with this, Sgt. Hammond even ran in a kilt."
The Oklahoma City Memorial Marathon is an event hosted every year in memory of the Oklahoma City bombing of 1995.
The annual event has grown to more than 10,000 participants and has contributed a little more than $2 million dollars to the memorial.
For more information, visit http://okcmarathon.com.