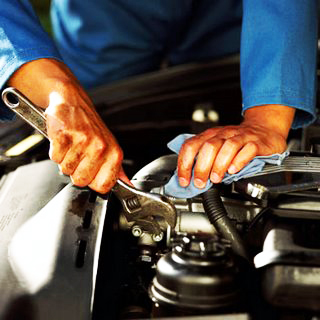 A shortage of automotive technicians nationwide is what prompted OCCC to offer a 12-month fast-track certificate in the program, in addition to the two-year associate in applied science degree, said Professor Brad Walker.
Walker now heads the automotive technology department.
He said OCCC is one of the three or four schools in the nation chosen by General Motors to offer the certificate that began in 2013.
It's been a success thus far, he said.
"Out of the 13 or 14 students nationwide, seven are from here."
Of those seven, he said, five have returned to OCCC after completing the certificate to further their education and get a degree.
Walker said that that is exactly what they were hoping for.
He said students can choose between two certificate options.
The General Motors emphasis involves online training through GM, Walker said, and leads to work at dealerships.
The other option is for those who plan to work at other shops, such as Pep Boys, Firestone, Hibdon Tires, and others.
"We work really well with a lot of the independents so they can go either way," Walker said of the certificate.
The certificate covers four out of the eight automotive areas.
The qualifications are the basic automotive fundamentals, how the shop works and basic maintenance, GM electrical hands-on training, brakes, steering and suspension, and heating and air.
Walker said those qualifications will leave the students 90 to 100 percent certified in the GM areas nationwide.
"This will help get technicians into the shops faster," he said.
A requirement for the program is that the student also be working at a GM dealership. That can occur in two ways Walker said.
Students are placed by OCCC through an agreement with GM dealerships or GM dealers send their employees to OCCC for the year-long program.
Walker said the college has a list of dealerships that will employ students who enroll in the program.
Student Justin Vannoy recently finished his certificate, and is now back at OCCC to get his degree. He said he had no problem getting the required job when he was in the program.
"It's pretty easy to get one when they're looking for you," he said of job searching for the program. "It wasn't really hard at all.
Vannoy has high praise for the program.
"They teach you all of the very basic stuff to where you can go up there and actually start immediately working on cars and know what you're doing," he said.
The 12-month certificate program began last fall and continues to be a success, Walker said. He said although students can enter the program in the spring, it's "best if they start in the fall."
For more information, contact Walker at 405-682-1611, ext. 7128, or email at bwalker@occc.edu.