OCCC graduate recognized for animated film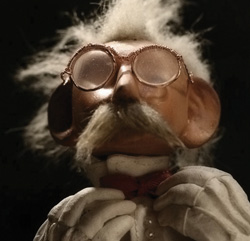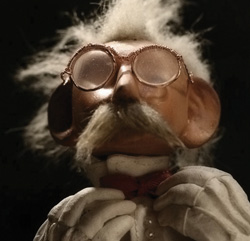 Courtesy Isaiah Powers
Isaiah Powers, a 2005 OCCC graduate, and graduate of the Kansas City Arts Institute of Missouri, has been named a winner of the 37th Annual Student Academy Awards competition.
"I'm very excited, pretty blown away, actually," Powers said.
"It's nothing we were expecting."
Powers and his collaborators Jeremy Cas-per and Stuart Bury, won for their short animation "Dried Up."
He said the short, made entirely in classic stop-motion animation, was a collaborative effort between the three from concept to finish.
"The story is about a quiet old man who toils daily to forge a last ditch effort to bring hope and life to a faithless, drought ridden old town," Powers said.
He said the sets and puppets — all hand-made — took six months to build and overall, the film took eight months.
Many of the props and sets in the film are created from objects found in junkyards or garage sales, Powers said, and some come from unlikely places.
"The old guy's hair actually comes from the tuft of hair on a Furby (toy)," Powers said.
"Scalping a Furby was definitely one of the weirder things I've done, especially at four in the morning.
Powers joins an elite group with the win.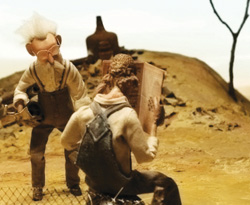 Courtesy Isaiah Powers
The Academy of Motion Pictures and Sciences created the Student Academy Awards in 1972 "to support and encourage excellence in filmmaking at the collegiate level," according to the organization's website.
Past winners include John Lassiter, chief creator and director of Pixar, and Robert Zemeckis, director of such films as "Forrest Gump" and "Who Framed Roger Rabbit?"
For his effort, Powers said, he'll take home a few prizes.
Winners receive a trophy and a cash prize, — $5,000 for Gold Medalists, $3,000 for Bronze, and $2,000 for Silver. The Honorary Foreign Film award's cash prize is $1,000.
Powers said while winners know they will receive a medal and prize, they don't know how they've placed until the presentation at the Awards Ceremony, which is held June 12 at the Samuel Goldwyn Theater in Los Angeles.
He said no matter the prize, he is happy.
"There was a pretty good amount of tunnel vision while we were working on the project," Powers said.
"I think it's just exciting that we get to do work here in college, and then we get recognized in LA."
For more information about the Student Academy Awards, visit www.oscars.org/awards/saa. To find out more about the short film "Dried Up," go to driedup.wordpress.com.
For more on OCCC's film program, visit www.occc.edu.
To contact Jeremy Cloud, email editor@occc.edu.