OCCC gets new workout equipment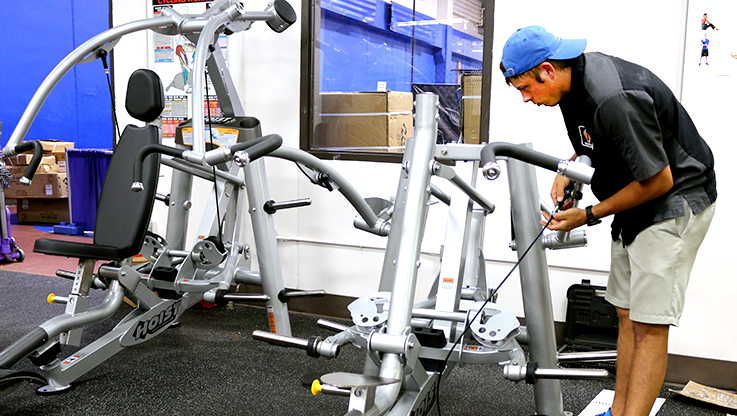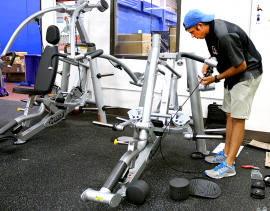 Community Development Vice President Lemuel Bardeguez said OCCC has expanded the weight room to more than twice its previous size, spilling into the one of the bays that used to be a volleyball court.
"Brand new gear, brand new equipment, brand new aerobics — anything from treadmills to elliptical machines," he said.
"We have an entire Hoist system that's weight-assisted and it comes with the QR codes that you can take a picture of with your phone [to show] you exactly how to use it."
The total cost to OCCC was $119,838 Bardeguez reported in an Aug. 17 Regent's meeting.
Fitness and Recreation Director Michael Shugart said he was sure to try out the strength equipment before they made any purchases.
"When we purchased this equipment, the sales guy came here and I told him, 'I'm not going to buy anything until I put my hands on it,'" Shugart said. "So he took me to another facility that he had sold this equipment to and I actually used all of it."
Shugart said the new equipment is easier to use than what was once in that area.
"For the people that are going to come down here and try it, this new equipment that we've brought in — this Hoist brand — it's state-of-the art. It's brand new. It's ergonomically designed to isolate muscles and make sure that it's not putting strains on anyone's lower back," he said.
Computer Animation major James Daggs said the new equipment makes the gym feel more modern.
"It definitely looks updated compared to the stuff they had last semester," he said.
Mail Services Clerk Tim Zurishaddai said he has worked out in the Wellness Center for the past 11 years, and was happy with the former equipment.
"Some of it's to an advantage and some of the old stuff is better," he said. "I'd say it's about a 95 percent improvement."
He said he is happy with the upgrades, especially the expansion into the former volleyball court.
"They definitely needed more room," he said. "I used to run out of room all the time."
For more information, contact Recreation and Fitness at 405-682-7860, or visit www.occc.edu/rf.