OCCC food service provider failing on many levels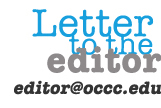 To the Editor:
"My goal is to not eat in the OCCC cafeteria again until a different vendor takes over. While most people might complain about higher prices, that is not among mine. Rarely does the cost of anything go down except for maybe some electronics. I don't begrudge CMCo a profit; no legitimate business loses money intentionally. The Consolidated Management Company website claims to provide friendly, fresh, fit foodservice. I say they fail on all counts.
My issues deal with availability of healthy choices, health codes, and condiments. Since taking over the vendor contract, the selection of healthy side dishes in the hot line has dwindled. Overcooked canned vegetables don't become healthier with the addition of bacon. I don't expect a vegetarian option for an entrée; I may be hopeful, but I'm not naïve. I do, however, expect a low-fat or no-fat option for salad dressing. When I asked about that, I was directed to get just one packet of Paul Newman's dressing from the cooler. Mr. Newman makes a good dressing, but is it too much to expect that our on-site food provider have something else? (I can't help but wonder if there is a charge for extra Ranch dressing.)
On my last trip to the cafeteria, I witnessed patrons going behind the salad bar even though there was no sneeze guard. When I questioned the manager about this health code violation, he said that a second sneeze guard had been requested but was not yet approved. And even though he said people shouldn't be back there, no effort was made to restrict them. I have noticed they now block people from going behind the salad bar, but my trust in their operation has been destroyed.
When I have in the past been able to assemble a plate of side dishes, the lack of flavor necessitated the use of salt and pepper. I don't know where the little packets are hidden these days, but I'm sure they are safe because I can't find them anywhere.
Since I teach two classes on Mondays, my practice has been to get lunch at the cafeteria and bring something for dinner before my evening class. I learned earlier in the semester not to plan for a dinner from the cafeteria after 4:30. They're packing up for the night. My continuing disappointment with the cafeteria vendor has simply resulted in my bringing two meals to campus on Mondays. I'm sure an occasion will arise that will send me to the cafeteria for a meal; I certainly don't look forward to it."
Rick Allen Lippert
Adjunct Professor