OCCC employees make music together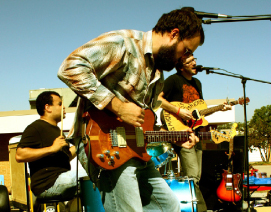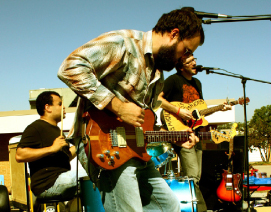 Brandon Isaak/Pioneer
Shown are three of the members of the band Mockingbird. Left to right: Anthony Edwards on drums, Brian Gabbert on lead guitar and vocals, and Brandon Isaak, guitar and vocals. Not shown is Kendra Boeckman, bass.
Two OCCC employees are in the middle of producing their second album, "Sirens' Song."
Mockingbird, a local uprising band, is comprised of Communications Lab Assistant Brandon Isaak (songwriter, vocals and guitar), Financial Aid employee Anthony Edwards (drums), Brian Gabbert (lead guitarist and back up vocals) and Kendra Boeckman (bass).
Isaak said he has always been interested in music.
"I've been writing songs for 10 years," Isaak said. "I got really serious in 2007 (when) both grandparents died within a month of each other.
"I was sad but it really inspired me to live life more and purse my dreams."
The groups' album "Garage Apartment" was recorded in six months, Isaak said.
When the band expanded to include more members, the name Mockingbird was chosen.
"Everyone is native to Oklahoma," Isaak said.
"We're all originally from different cities in the state but we all are living in OKC."
Issak said Mockingbird comfortably fits into the indie rock genre.
"Sometimes our songs sound kind of folksy or sometimes straight up rock," he said. "I think it's one of the things that's great about our music — it's highly dynamic."
Isaak said his influences are Jeff Buckley, Nirvana and Elliot Smith.
Mockingbird also incorporates synthesizers and a mini keyboard to add to the variety of sound, he said.
Isaak said he could envision expanding the band even more to include more instruments.
"I have a friend who plays the mandolin. We will probably try to have her add stuff in and we add some piano every now and then."
Isaak said he and lead guitarist Gabbert make their own guitars.
"Brian has a Telecaster, and I have a Fender and a Jagmaster," he said.
"We take the skeleton, gut out the electronics and replace them with high-quality gear bought from e-Bay and we wire it ourselves.
"You can get crazy tones and a wider range of sound," Isaak said.
Mockingbird's drummer is enthusiastic about the band's contrasting harmony.
"We don't sound like Nickelback, Hinder or Theory of a Deadman," Edwards said. "We don't auto tune.
"It's like what Frank Zappa said, 'Why sell people good stuff when you can sell them shit.'"
Isaak said the band strives to send a message to their audience through his words.
"I like to challenge conventional thought in my lyrics," he said. "I try to get people to take a look at what they're doing in society and how they respond to it."
Mockingbird will be playing with The Nghiems at The Deli, 309 White Street, on Campus Corner in Norman Wednesday, Feb. 23.
For more information and to sample their sound visit, www.reverbnation.com/mockingbird and www.mockingbirdband.com.