OCCC Celebrates Higher Education Act's 52nd Anniversary
Wednesday, November 8th, marks the 52nd anniversary of the Higher Education Act. It was established November 8, 1965 by President Lyndon B. Johnson to provide financial aid for college students.
The OCCC TRIO programs celebrated the anniversary, and honored first generation college students in the main building on campus.
The TRIO programs help prepare high school students for college, guides college students towards graduation, and through transferring to four-year universities. The programs offer financial resources for low-income students, and advisors for counseling and support. First generation students are strongly encouraged to join.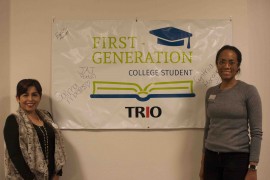 There was a booth set-up with informational pamphlets, applications for TRIO, snacks, "First Generation College Student" buttons, a poster where first generation students can sign their name, and a television broadcasting videos of national TRIO achievers.
Lathonya Shivers, Director of TRIO Grant Programs, says the TRIO programs have partnered with the National Association of Student Financial Aid Administrators, or NASFFA. "Our organization honors national achievers," she said.
"Part of Lyndon B. Johnson's 'war on poverty' was to increase access to higher education for low income people. What we know about financial aid all started with the Johnson Administration."
Jai Patel is a business major at OCCC and is in TRIO. He says TRIO steers students in the right direction. "They help you one-on-one with what your goals and aspirations are," he said. "It's been amazing."
Jennifer Barrett is Assistant Director of TRIO and says the program is a wonderful organization for students to navigate through college. "When you don't have someone in your family that's attended college, it's a more difficult process." She also said the Higher Education Act was a "good measure" to assist first generation students.
Regena Wright is the Administrative Assistant for the TRIO programs and says it's very rewarding seeing students graduate and become successful. She's been with the programs for seven years now, and acknowledges change overtime.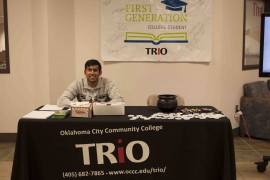 "I feel we are more involved with students," she said. "We offer more workshops and have seen more students get bachelor's degrees in the last few years."
Monica Suyo is a TRIO advisor and joined OCCC this August. She said through academic support she helps advise students with personal decisions that can impact their career and life.
Suyo says it's been a tremendous and wonderful experience being a part of TRIO. "It's been a dream job."