OCCC app features everything students need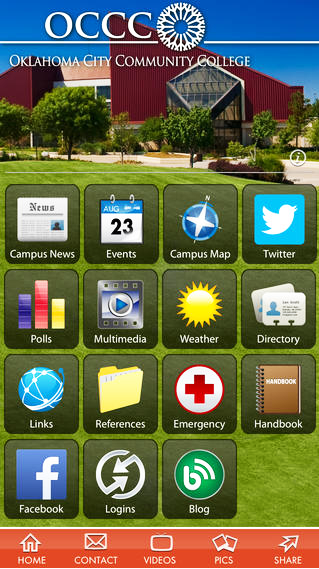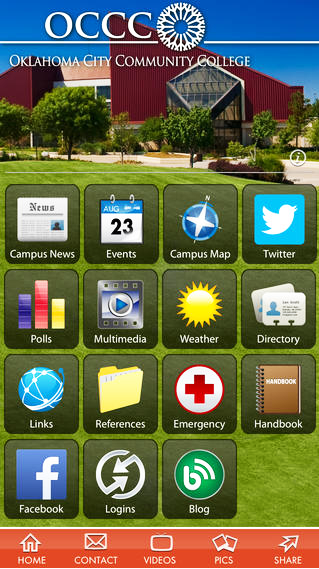 OCCC's mobile app — available on Android and iOS devices — has recently been updated, said John Richardson, web development and social media supervisor. He said students can expect a new look and new features.
Richardson said the app now includes a background picture of the college, which gives the app a fresh look.
"The look is different," he said.
"If you've not upgraded to the new version of the app, it looks very different and I think in a positive way."
The app also contains links so students can log into their Moodle, MineOnline and student email accounts directly from the app, Richardson said.
"… I think that's a very important addition to the capabilities in the system."
Richardson said the app also has many other features, including a weather module, contact information, events, a news feed and links to OCCC's social media sites.
"We've got a link to our Facebook page, a link to our Twitter account, a link to our YouTube account.
"We want to position the app so that if people want to know something about the college, or need to ask things about the college, they can think of that as an option available to them."
Richardson said there are many other features that students can expect to see soon.
"There are a few new features that we haven't turned on yet, simply because we want to do some planning to make sure that they function the way they're supposed to before everyone gets it on their phone …so we have a few issues to work out, but overall, the change went very well."
Richardson said OCCC is looking at adding even more features on the app in the future, like a library interface and the OCCC handbook.
"We've had some conversations with people in the library about creating an interface between the app and their computer system," he said.
Push notifications, which send alerts to students' home screens, also will be a future addition that OCCC will use to contact students. The notifications will be helpful when campus is closed for unexpected weather, Richardson said.
The OCCC app is free and can be downloaded in the Apple App Store, or the Android Store.
"There's no interest on our part in trying to make money off of this," he said.
"We want to provide it as a service to students, employees, and prospective students, as well."
Richardson encourages all students to get the OCCC app on their phones.
"I hope they'll at least consider installing it on their phone and giving it a shot. We hope that it's something they'll find useful."
For more information about the OCCC mobile app, contact Richardson at 405-682-7552 or email jrichardson@occc.com.
To contact Lauren Daniel, email editor@occc.edu.