OCCC alum makes it big in Paseo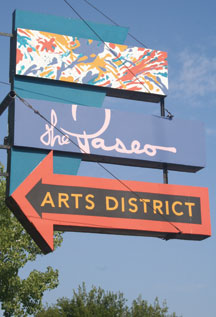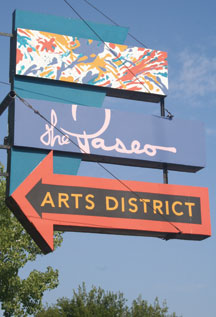 Anyone who's had any interaction with the art scene in Oklahoma City has at least heard of the Paseo Arts District.
Just as likely, that person may even have stumbled upon the small neighborhood tucked just north and east of N.W. 23 Street and Western, in the midst of lush trees and modest urban homes.
Sitting in the middle of the aptly named Paseo Drive is a small, Spanish style storefront that has seen the numerous changes the district has undergone over the passing decades.
This store front is now home to Picasso Café and neighboring bar The Other Room; both co-owned by former OCCC student and OU graduate Sean Fiaccone.
The locations, formerly occupied by Galileo Restaurant and Isis Bar, were re-opened in December of 2009 when Fiaccone and his business partner Kim Dansereau wanted to open a business reflective of the diverse and colorful atmosphere that, they feel, the Paseo possesses as a whole.
"We based our business model on the same premise as The Paseo itself and that is to be open to everyone," he said.
Fiaccone is a former restaurant partner with Oklahoma-based Deep Fork Group.
Picasso Café and The Other Room are Fiaccone's first foray as principle owner of his own business, a job, he said, that can present a daunting task. "When you open up a new business, there is a large inherent risk," he said. "Ýou can't think about it too much because you'll never get it done."
By opening the two establishments, Fiaccone said, he wanted to continue the tradition of Picasso Café's predecessors.
He feels that not only can patrons have a great dining experience but also that the newly renovated locations will form an intimate setting that won't change what patrons of The Paseo have grown accustomed to.
"We didn't want it to be too different from Galileo's," Fiaccone said. "They did a great job of being an open, common space for everybody. We express ourselves in our own ways though, by exhibiting a certain level of quality in regard to food, service and alcohol."
Picasso Café server Glen Antonio Wright echoed the sentiment about quality by describing what, he said, customers often find most appealing.
"It's a great environment with live music, al fresco dining, and a great family feel," Wright said.
Wright also described the eclecticism of the restaurant's staff and said it very much catered to what could be called the "urban Bohemian" crowd with its tangible, communal vibrancy.
"The networking potential is a great part of my job," he said. "I get to meet a lot of local artists and musicians. You can tell that the staff genuinely loves meeting and serving people."
Fiaccone related his advice for students who may think of one day opening their own business.
"Owning your own business is really rewarding," he said. "But you should always remember that the buck stops with you. If you remember that, then you'll be well equipped to own your own business. "(As an owner) try to be there every single day and work as hard as you possibly can and don't let anyone out work you."
Fiaccone and Dansereau are also active partners in the group ownership of Sauced, located in The Paseo, and are also principle owners of Kaiser's American Bistro located at N.W. 10 and Walker Avenue in Oklahoma City.