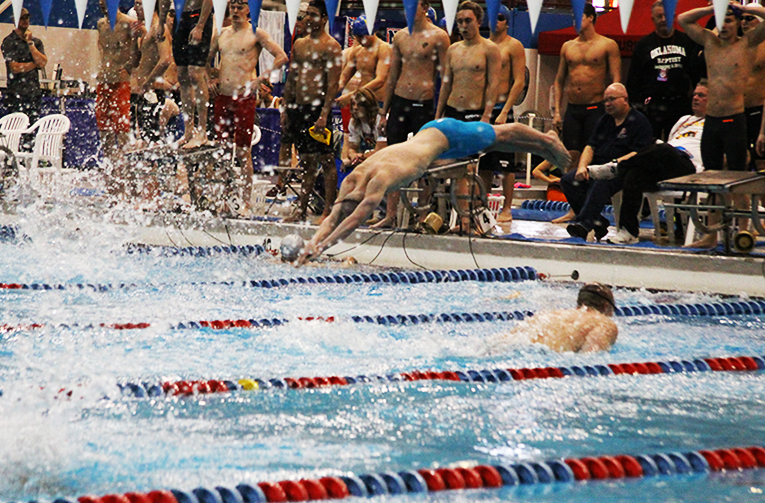 Oklahoma Baptist University dominated its opponents, winning both the men's and women's swimming and diving national team titles for the second year in a row during the NAIA swimming and diving competition.
The competition took place March 5 through 8 in the OCCC Aquatic Center.
This marks the third consecutive team championship for the Bison men since their inaugural 2011-2012 season.
OBU Head Coach Sam Freas said he is more than proud of what his athletes have accomplished.
"These kids work hard," Freas said. "[Winning another title] is a real honor, it's a really big honor."
The Bison men and women won 13 of 20 individual events to elevate their point totals far above the second-place teams.
The men finished with 794 points, followed by Illinois's Olivet Nazarene at 485.
The women accumulated 849 total points, for a big lead over second place Savannah College of Art and Design with 492.
Daniel Ramirez from OBU was named NAIA Swimmer of the Year after winning three individual titles and breaking the previous record in all three of those events (100-yard Freestyle, 100-yard Backstroke, 100-yard Breaststroke).
"I knew this was a new year and it's exciting," Ramirez said. "It's been a new adventure for me."
Freas is also happy about Ramirez's achievements.
"He's an unbelievable story of a kid who, during freshman year, wasn't very good," Freas said.
"He's gotten better and better each year. He's an ultimate fighter."
Olivet Nazarene's head coach Scott Teeters was named the NAIA Men's Swimming and Diving Coach of the Year.
He also shared NAIA Women's Swimming and Diving Coach of the Year honors with Blair Bachman of Georgia's Brenau.
Over the four-day competition, 14 of the NAIA National Records were broken, 11 by Oklahoma Baptist.
Christine Tixier of Biola University was named 2014 Female Swimmer of the Year.
She broke her own record in the 100-yard butterfly, flying to a 54.35 final time.
Biola is a Christian university in La Mirada, Calif.
SCAD's Joel Ax broke the record in the 200-yard freestyle with a time of 1:36.71.
SCAD also made it into the books in the 800-yard freestyle relay with an time of 6:34.98, beating the previous record set by OBU in 2012.
For more information, visit their website at www.naia.org