Nursing students organize Life Saver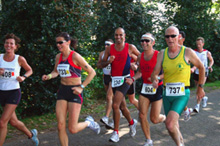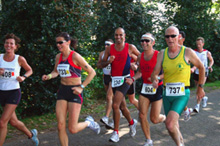 The OCCC Nursing Student Association and Student Physical Therapist Assistant Organization will sponsor the 3rd Annual Life Saver 5K and 1 mile Fun Run Sept. 17.
With its number of participants growing each year, OCCC Nursing Student Association President Jennifer Hader is keen to keep that trend going.
"I would very much like to encourage all current and previous nursing students to participate in the 5K, either by running or volunteering their time to help us make this event even more awesome than the last two." Hader said.
Race Director and Associate Nursing Program Director Deborah Myers also is optimistic that the number of participants will grow with the upcoming fun run.
"We'd like to have 500 participants and we're hopeful that we'll reach that number for this year's run." Myers said.
Whether you're looking forward to a serious run or a relaxed stroll around campus, you don't have to be in prime condition to participate in the event, Myers said.
Physical Therapy Association sponsor Jennifer Ball said this year's race also will offer contestants and spectators alike the option to participate in a Zumba warm-up class that will be personally instructed by Ball.
Ball's husband David, a participant in the 2011 Boston marathon, will emcee the event as well. She said they are both proud to be taking part.
"It's a wonderful event that is family friendly and gives people a chance to get out and promote a healthy lifestyle."
The majority of the proceeds generated by the event will go to supporting a scholarship fund Hader said.
"All of the money raised in the race goes for either scholarships for students in the nursing program or back into the race."
We had enough money to provide a scholarship to every applicant last year," she said. "This year we're expecting more students to apply so we of course want to work hard to provide for them."
Hader said she also sees the event as a way of getting students involved on the community level
"[The run] is also a great time to encourage our students in the nursing department," she said.
"The PTA students work hard and know that we appreciate all they are doing to become great in their career fields."
Prizes will be awarded for the top three finishers in various age groups ranging from 12-and-under to 80-years-and-above.
"There will be food, drinks, a live band, and plenty of fun for the kids on the day of the race," Hader said.
Anyone interested is invited to register for the event either online or by mail.
For fees, information and details about registering, visit www.occc.edu/lifesaver. Registration is currently open and will close at 11:59 p.m. Sept. 15.