Nursing program pass rate exceeds U.S. average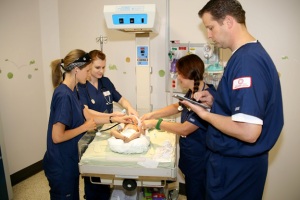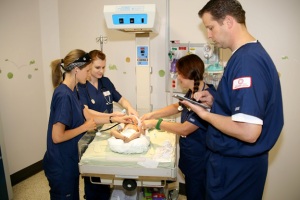 In 2014, OCCC added 217 newly graduated registered nurses to the workforce, said Deborah Myers, nursing program director. The students passed the national NCLEX-RN licensure exam at a rate of 89.40 percent, compared to the national average pass rate of 81.79 percent, and a state average of 83.55 percent.
"We are a very large program, and we do very well," Myers said. "We always aspire to be above the state and the national passing rate."
Myers said the statistics are based on the first time students take the test.
"In  December, we graduated 63 students of whom 53 took the NCLEX-RN test, and we have 100 percent passing rate so far," Myers said. "They will count in the 2015 nursing board report."
Myers said nursing schools can't graduate enough registered nurses to match the rate that hospitals are hiring.
OCCC nursing graduate Nadia Moudkiri is among those just entering into her professional life, being one of the 53 who passed the RN licensure exam in 2015. She recommends the program.
"If you are at a loss for a career path, and if you know deep in your heart that you have what it takes to truly care for others, a career in nursing is the best option and fit for you," she said.
She had set her sights on the University of Oklahoma Medical Center all along, she admitted.
"I enjoyed a well deserved six weeks break after my pinning ceremony," Moudkiri said. Immediately after her mini-vacation, OU Medical Center came calling, and she is now part of their newly acquired nursing team.
Another student, Shandi Kidd, is just getting started in the program. She is now taking Nursing Process 1, the first of four semester-long nursing process courses.
A wife and mother to three super-active kids, Kidd said, she had to take all the prerequisite classes that qualified her to get into the nursing program so she could accumulate the necessary points for admission.
"The nursing program is not an easy program by any means," Kidd said. "But with a lot of hard work, dedication and study time, it is do-able."
The school's benchmark completion rate for those entering a nursing program is set at 70 percent, Myers said.
"Typically our completion rate is pretty high," Myers said. "It is usually between 80 percent to 90 percent."
The college's nursing student body was 64 percent Caucasian, 300 out of 466, in 2014, Myers wrote in her report to the nursing board.
It also was dominated by women, who made up 83 percent of the total. Only 78 men were among the 466 nursing students.
"We would like to have more Hispanic students simply because of our area that we serve," Myers said. Of the total, 33 nursing students were Hispanic.
Of the remainder, 42 were African-American, 16 American Indians or Alaskans, 31 Asians, and lastly 36 were classified as "other."
Myers said the biggest challenge she is facing is the sheer size of her program. If she had unlimited resources, she said, the first thing she would do would be to expand the capacity of the school.
"I would either add on to this building or build another wing so that all of my faculty, staff, and students are all in one place instead of here and there," Myers said."I would also pay the faculty more."
Her staff consists of 21 full-time faculty and 50 adjunct faculty. Myers said OCCC has one of the largest registered nursing programs in the state.
For more information, contact Myers at 405-682-1611, ext. 7138, dkmyers@occc.edu, or visit the nursing program website at www.occc.edu/health/nursing.
To contact Hicham Salim, email onlineeditor@occc.edu