Nursing program director looks to retirement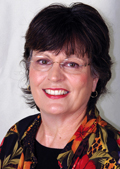 Rosemary Klepper
After seven years of service, Rosemary Klepper has retired from her position as OCCC Nursing Program director.
Klepper said during her tenure she saw dramatic changes, including almost double the number of registered nursing students and an increase in the percentage of graduates passing their license exam on the first try.
About 200 nursing students graduate each year, making OCCC one of the largest programs in Oklahoma, Klepper said.
The program has grown by increasing the number of openings in the traditional RN program and by offering some additional options to students.
"The program has increased its application acceptance from 54 to 72 applicants twice a year," Klepper said.
Also, OCCC has added a Baccalaureate to Associate Degree Nurse Accelerated Pathway option as well as a Collaborative Bachelor of Science in Nursing Pathway, she said.
In the accelerated program, students who already have earned a bachelor's degree in another field and have completed a list of prerequisite courses can complete their RN degree in 10 months of intensive online and on-site coursework, said Deborah Myers, acting director of nursing.
OCCC accepts about 60 students into this option each year.
The Collaborative Bachelor of Science in Nursing Pathway gives University of Oklahoma nursing students the opportunity to complete the junior year of their four-year program by taking coursework at OCCC. Students in the collaborative program pay tuition at the OCCC rate, Myers said. This program accepts 24 students each year.
Klepper pointed with pride to the fact that since 2008 more than 90 percent of OCCC registered nursing graduates have passed the national license exam on the first try. This is a higher pass rate than the state average and the national average, she said.
This is based on statistics from the Oklahoma Board of Nursing's annual reports on first-time NCLEX-RN candidate pass rate for each nursing program.
When Klepper arrived in 2004, about 87 percent of OCCC's nursing graduates passed the test the first time they took it.
Klepper credits the success and expansions of the nursing program to the college's open mindedness, hard working faculty and phenomenal student body.
"I am passionate about teaching," Klepper said. "My philosophy is to set high expectations in order to achieve improvement."
Although Klepper is retiring from her position, she will continue to remain active in health care.
She said she will work as project manager of Canadian County Health Access, focusing on a new model for the delivery of Medicaid and SoonerCare to Oklahomans. These are health insurance programs for low income people.
Klepper has more than 30 years of experience in nursing and teaching.