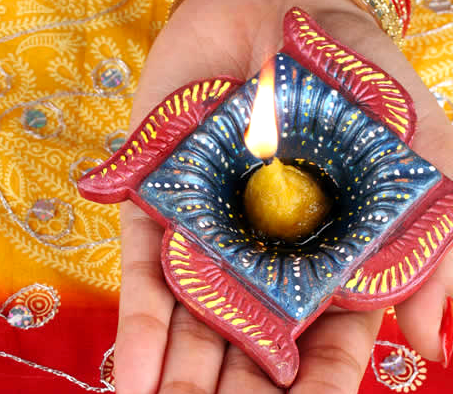 Catholics, Hindu, Sihk, Jain, and Baha'i faith members celebrate a number of religious holidays in November.
All Saints Day this year fell on a holy day of obligation — Sunday, Nov. 1, said English Professor Markus Zindelo.
Zindelo said he celebrated the holiday, which actually began the evening of Sunday, Oct. 31, by going to mass at his parish, St. Francis of Assisi Church in Oklahoma City.
Zindelo said Catholics celebrate the holiday by praying for all people who have gone to heaven, people which Catholics consider saints, and writing those names in a book, which is read by the priest on All Souls Day, held the day after.
All Souls Day was celebrated this year on Monday, Nov. 2. Zindelo said, on that day, Catholics pray for those people who are in the place between heaven and Earth- purgatory.
"I just pray for everyone who is dead because I don't know if they have gone to heaven or not" Zindelo said.
Monday, Nov. 9 to Friday, Nov. 13 is Diwali, the five-day festival of lights. It is celebrated across the world by members of the Hindu, Sikh, and Jain faiths.
The third day of the festival, Thursday, Nov. 12, is the actual day of Diwali.
Though it is celebrated for different reasons among the different religions, Diwali is usually about celebrating the triumph of light over dark.
The light is embodied by the bright decorations in homes, fireworks, and the lighting of candles, according to www.independent.co.uk.
Thursday, Nov. 12, also marks the celebration of the New Year on both Jain and Hindu calendars, according to www.timesofindia.indiatimes.com
Thursday, Nov. 26, marks the Day of the Covenant in the Baha'i Faith, or the union between God and humanity that created the faith.
The following day, Friday, Nov. 27, is celebrated within the Baha'i faith as the day the central figure in the faith, Abdu'l-Baha, was pronounced the center of the covenant, according to www.bahaiteachings.org.
OCCC has a diverse population this fall semester, including 385 full-time international students. Those students hail from China, Nepal, Vietnam, South Africa, South Korea, Cameroon, Kenya, India, Bangladesh, and Nigeria.
For more information on religious holidays this November, visit interfaithcalendar.org.