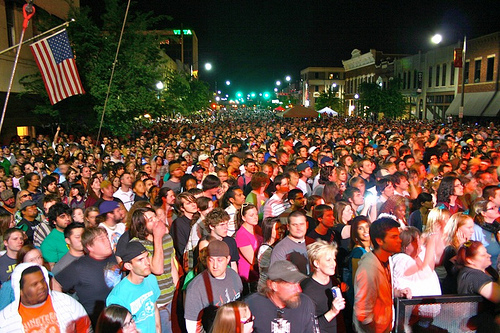 This past week, April 26,27,and 28, marked the fifth annual Norman Music Festival. The festival is located in the heart of Norman, on downtown Main Street. NMF is free to all because of the gracious sponsors and volunteers.
Each year with NMF it is the same pattern. Come Thursday at about 6 p.m., the bands start inside various sponsor venues. On Friday, the music starts a little earlier, mostly inside with the exception of the Opolis and the Blackwatch stage. Then on Saturday, a long stretch of Main Street is shut down for the festival.
NMF is about the music — but not entirely. There also are many different art displays and fun activities for kids of all ages.
The festival also offers a carnival with rides and games. Like most carnivals it is overpriced, but that is to be expected. In the Dustbowl Arts section of the festival, a little rockers stage was offered for kids to try out many different instruments. I'm not a kid but I wanted to play along, too.
Let me get to the part about the music now.
NMF had 278 musical acts on the numerous stages that were set up inside and out. It was really hard for me to find a band I was excited to see. I believe the musical acts that were chosen had plenty of talent and I'm not arguing that.
Those bands just didn't tickle my fancy.
NMF in my opinion, books far too many of the same type of bands.
I understand that Indie is the way to go at a music festival, but does it all have to sound the same? I wasn't a fan of the headliner Portugal, The Man or any other bands that played on the main stage.
The planning aspect was an issue for me as well.
Really I'm referring to waiting so close to the festival to release the list of musical acts.
Yes this festival is based out of Norman, but people come from all over to attend. I know it would be difficult if possible at all for me to attend last minute if a band I really wanted to see was announced a week before the festival.
Overall, my favorite part of the NMF was the people watching which isn't saying much about the music.
Will I go next year? Probably, but my hopes will not be high.
Rating: C