Non-profit news group hosting public forum on poverty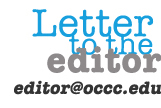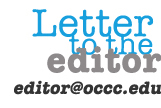 To the editor:
I'm an OCCC journalism graduate with a bachelor's degree in journalism from the University of Oklahoma. I now work for Oklahoma Watch. I want to tell you about an event you might be interested in attending — a public forum on Thursday, April 16, on the challenges of low-income neighborhoods in south Oklahoma City.
Oklahoma Watch is a non-profit news organization located at OU's Gaylord College of Journalism and Mass Communication. Those two organizations are sponsoring the event. The question-and-answer forum with local leaders will focus on the needs and concerns of south Oklahoma City communities and is tied to a mobile-video news project "Talk With Us: Poverty in Oklahoma City Neighborhoods."
The forum is from 6 to 7 p.m. Thursday, April 16, at the Capitol Hill United Methodist Church gymnasium, 123 SW 25th St., Oklahoma City. It is open to the public. Those interested in attending are encouraged to RSVP to events@oklahomawatch.org and come with questions. Oklahoma Watch Executive Editor David Fritze will moderate a discussion with civic and community leaders about issues they see and deal with in south Oklahoma City. The panelists include:
—Oklahoma City Councilwoman Meg Salyer. Salyer took office as the Ward 6 council member in November 2008 and was re-elected to a third term in March.
—Oklahoma City Public Schools Board Member Gloria Torres. She currently serves as the coordinator of the OCCC Capitol Hill Center.
—Attorney Michael Brooks-Jimenez. His legal services team focuses on defending the rights of Hispanics.
The project is made possible by a grant from the Online News Association Challenge Fund for Innovation in Journalism Education. It features virtual conversations between low-income residents and public leaders about issues facing some of the city's struggling areas. For more information visit oklahomawatch.org and talkwithus.net.
To contact Lindsay Welchel, email onlineeditor@occc.edu