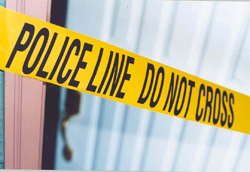 Crime reports received this week include a car accident, a pornography incident and a lost prescription.
At approximately 8:09 a.m. on July 7, a non-injury auto accident occurred in Parking Lot D when a Ford Excursion owned by Justin Usera, 31, hit a Toyota Tacoma owned by Bobby Red, 27. According to the report, Usera hit the Tacoma as he was backing out of his parking space.
OCCC Police Officer Gordon Nelson took photographs and filed a supplemental report.
Additional information can be found in the supplemental report that was not provided.
At around 4:36 p.m. July 8, James Goldsbury, audio visual specialist, reported pornographic material had been downloaded on campus computers in the Arts and Humanities classrooms 2E3 and 2E5.
The suspect is a 19-year-old female who, reports show, is an OCCC student. The woman's name was redacted on the report under the direction of Marketing and Public Relations Director Cordell Jordan who said names are redacted "according to OCCCPD Standard Operating Procedures involving information released and information withheld." To obtain a copy of the procedure, email cjordan@occc.edu.
At about 9:40 a.m. on July 9, Samantha Stringer, 28, reported she lost her Adderall prescription on campus. According to the report, she had been at OCCC all day on July 8 and had traveled to Rose State for a brief time.
She said she thought it fell out when she had reached in her purse for another item. The case is still active.
To contact campus police, call 405-682-1611, ext. 7747.
For an emergency, use one of the call boxes located inside and outside on campus or call 405-682-7872.