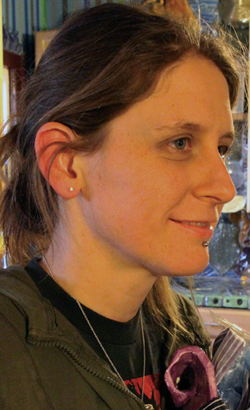 "I love having a challenge, working with new people and making it happen."
– Nicole Moan
Artist and Former OCCC student
Rachel Morrison
Pioneer
After graduating in 1999 with an automotive degree, Nicole Moan discovered her creative side. Now, she pulls in $600 to $5000 apiece with her custom-made adjustable ceramic corsets. The corsets are made from clay in four to six pieces, and laced together with fabric she said.
"I have to figure this out," Moan said, about the first two corsets she made for her and her husband. They were one piece and uncomfortable. However, she said, the corsets ignited a lot of attention from both women and men at the party they attended.
'Read more' to view a slideshow of Nicole Moan's ceramic corsets
Moan said it wasn't until a year later that she would make her next corset, only this time she took to her drawing board. "My engineering side came out." she said. Moan set out to make the corsets more comfortable, adjustable and lighter.
She said her explosion of creativity is masterminded in her home, which inspires creativity with beautiful works of art hanging there. She said her bathroom looks like an underwater ocean. Moan said she hopes to make her house a museum one day.
Born into a family of artists, Moan said she also gets inspiration from her family. In addition, she said, everyday life and society also help keep her creative edge going.
Moan said she is an artist first, but considers herself an inventor or creator who, by using everything around her, creates a new medium.
She works as a team with her husband Jason Moan who, she said, shares her interest as an artist and engineer.
"He grounds me," she said. "When I'm in my cloud, he brings me back to reality."
Moan said her parents also inspire her. Her mother Deborah Eilers Riddles is an impressionist artist who took art classes at OCCC. Moan's father Albert Riddle is a cubist artist.
Moan said, for the less creative side of the business, an OCCC marketing professor showed her how to market herself and catch people's attention with her art.
"He empowered me."
Moan said she is working on a new series of work that will include a bridal and a super-hero line.
"Sky's the limit," she said.
Moan said she learned a lot from OCCC professors, and received a lot of support from the staff in her automotive and art studies. Moan said her engineering and automotive sides work hand in hand when creating art.
"I skip around and work on more than one thing, so I don't get bored," she said.
Moan has a wide array of art such as: corsets, high relief tile, murals, wall hangings, jewelry, switch plates, waist centers and fashion.
Her latest ceramic corsets can be seen in OCCC adjunct English professor Tyrone Stanley's new musical "Soul on Fire."
Stanley said working with Moan is easy.
"She comes up with creativity and is free spirited," he said.
Stanley said the costumes Moan designed for him are so well created it helps put him into character for his musical.
"(It's) so much fun working with Ty," Moan said.
"I love having a challenge, working with new people and making it happen."
Katie Wygle, 26, OCCC nursing major, models Moan's ceramic corsets. She said she thinks the corsets are "fun and creative, crazy and outrageous."
Moan, who lives in both Oklahoma and Los Angeles, considers her different works of art "high fashion."
Moan rents and sells her art to people and events. Her work can be found at www.nicolemoan.com and www.4anythingart.com.
Moan's creations also can be seen at the Carnality Ball, an annual erotic art show Moan participates in that will take place at 8 p.m. Friday, May 13, at The Farmers Public Market, 311 South Klein Ave. in downtown Oklahoma City. Admission is $15 in advance and $20 at the door.
The Carnality Ball will showcase art, musicians, ribbon dancers performing from the ceiling, fashion performances, and an array of food.