New Robert Rodriguez film flops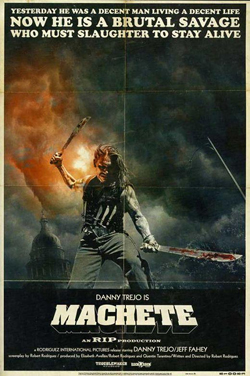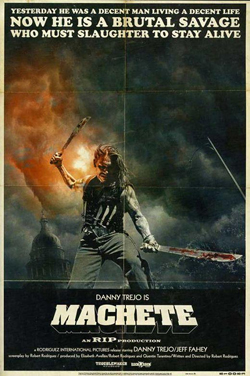 The most recent Ethan Maniquis and Robert Rodriguez slasher-flick, "Machete," opened in theaters Sept. 3. In comparison to the credibility and success of other Rodriguez films such as "Sin City" and "Kill Bill," this creation is disastrous.
The lead role of "Machete," an ex-agent out for blood, is played by Danny Trejo, who maintains the same rough appearance he has in every other film.
Being type cast has finally led Trejo to a starring role, yet the acting is almost as gruesome as the gory brawls.
Robert De Niro plays Senator McLaughlin, up for re-election on the platform of immigration reform with a spin. This is his funniest role since "Meet the Parents," and he is the only cast member who shows any talent in the film.
Cheech Marin, who plays a priest who operates the church for money and is Machete's padre, makes a small appearance. However, as usual, Marin makes at least one drug reference, and contributes many one-liners.
Lindsay Lohan, fresh out of rehab, plays the role of a drug addict's rich daughter vying for sexual attention, which is a real stretch of her acting ablitiles. Yet, it seems she cannot have a successful performance unless she is acting as a high school 'Mean Girl' wearing pumps and a bright shade of lipstick.
Steven Seagal plays Torrez, the villain enemy of Machete. With his 20 lines of dialogue, he manages to be more relevant than Lohan and Marin combined.
Jessica Alba plays Sartana, a border agent who monitors Luz, played by Michelle Rodriguez. Yet they come together to battle Lt. Stillman, played by Don Johnson.
Alba, Rodrigues and Johnson all give a mild performance, but offer nothing else.
"Machete" was created as an action film, but the unbearable plot, cast and cinematography made the movie quite comical.
There is something to be said about an action film that is so awful it's laughable. Do not spend money to see it.
Racial slurs, nude women and lack of substance do not translate into entertainment.
Rating: D