New Capitol Hill director mixes passion with purpose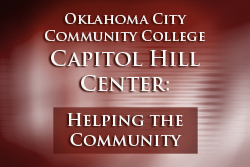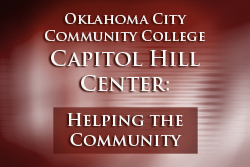 An OCCC graduate who is bilingual in English and Spanish has taken over as coordinator of the new Capitol Hill Center.
Sergio Gallegos has been employed at OCCC since 2006, working in the office of Recruitment and Admissions. He began the new position at the beginning of November.
The center is part of OCCC's Community Outreach and Education program, and is located at 420 S.W. 10 St., between Walker and Robinson in Oklahoma City.
Gallegos said he has found his passion in outreach work, especially with the Latino community. The center's non-profit work will prepare clients for the work force, through improved English language skills and computer skills.
He said they teach a six-week program that helps adult students gain computer knowledge. The classes are pretty basic, Gallegos said, but are designed to help students familiarize themselves with the use of computers.
Some skills taught are as basic as learning how to log on to the Internet or learning to post online job résumés. With the aid of such technology, students will have a better chance at obtaining jobs, Gallegos said.
The class, which runs from 9 a.m. to noon, usually accepts between 15 and 18 people, mainly adult women. The cost is $10.
Gallegos said he will be using his bilingual talents to help educate others.
"To succeed in this country, you have to speak English," he said.
Gallegos said he understands the importance of education, and he strives to instill this mindset into his students.
Born in Mexico City as the oldest of six brothers and two sisters, his parents had big expectations for him to further his education. In 1976 he moved to Oklahoma, and became the first of his siblings to attend college at OCCC.
"The more people are educated, the better our community will be," he said.
This isn't the first time Gallegos has been involved in doing non-profit work for the Latino community. Before coming onboard as an OCCC employee, he worked at the Capitol Hill Center doing similar work. He explained his fervor for community service.
"Doing non-profit work isn't about the pay as much as it is the passion you have for the cause," Gallegos said.
The computer specialist at the center understands this as well.
Yeol Kim has been active in the program for the past four years. He teaches beginning computer classes in English as well as in Korean. Together, Gallegos and Kim prepare people in the community for the work force through computer-aided technology.
His familiarity with the Capitol Hill Center and the Latino community has made this an easy transition for Gallegos. His goals for the center are growing.
"We are evolving from an information technology center to a community center, to provide more social skills," Gallegos explained.
The center is open to all ages and walks of life. Gallegos encourages people to visit their location. The center has also purchased another location at 325 S.W. 25th St., but that building is in the midst of remodeling. They hope to utilize this building for more community services.
"The center is a bridge between the community and our campus," he said.
The hope is that all students who are active participants at the center will transition themselves into higher education at OCCC. For some, this has proven successful. The completion of G.E.D. classes have made this possible.
Gallegos invites students to visit the Outreach Center.
"Come visit us and see what we're about," he said. "We're open to everyone. We are a part of the college, and want you to come and see us."
There is always a need for volunteers at the Outreach Center, he said. If you would like to help out, contact Gallagos at 405-272-5140.