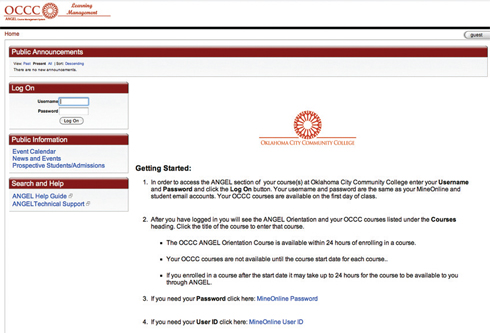 Starting this fall, the library will offer professors who use ANGEL to teach the ability to stream major motion pictures and television shows to their students online.
ANGEL, which is located online at angel.occc.edu, is the virtual hub through which professors teach online courses.
Now, Swank Digital Campus is providing students in these classes the flexibility to view required course films and TV shows outside of the classroom legally.
Library Services Director Barbara King said the system will be available for instructors to use in the fall.
"Only if the instructor is using it in the course and they have incorporated it into the learning management system will students have access to this on their own," King said. "They must be in the course."
This is not OCCC's first time using Swank. King said Student Life has used this production company in the past when showing movies to students in the College Union.
The library also has used this service in the past and decided it would be beneficial for instructors to have the ability to use it as well for their courses.
Students who have access to this new service will use it just like any other ANGEL service, King said.
However, they will need to download Microsoft Silverlight to view the streaming shows on their personal computers.
Student Mariana Sarur said she is excited about the change.
"I use ANGEL a lot in my courses and I hope my future instructors will offer this service for us," Sarur said.
"It's hard to juggle classwork, work and home life. To add having to go to the library to view something for a class adds stress," she said.
"Hopefully, this will cut back on that."
With the new licensing the library has agreed to with Swank, OCCC is limited to 25 titles a semester, King said.
Those titles will be determined depending on instructors' preferences, she said.
For more information, call King at 405-682-1611, ext. 7315, or visit www.occc.edu/library.