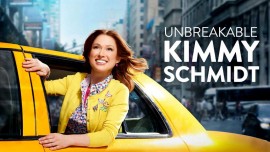 [1]To pass time this past summer, I surfed through Netflix, attempting to broaden my horizons by watching new shows.
If you read my review last week on "BoJack Horseman," it should come as no surprise that I am reviewing another Netflix original. Netflix is killing the series medium that spreads across television, the web and other similar services like Hulu and Yahoo!
This week's gem is "The Unbreakable Kimmy Schmidt."
The plot of this show is quite odd. A group of teenage girls are trapped in a bunker by a cult leader who convinces them the world is going to end. When they are rescued 15 years later, one of the girls, Kimmy, leaves a publicity tour the girls are on, and settles in New York City, attempting to leave her past behind and start a new life for herself.
Kimmy, played by Ellie Kemper (whom you might recognize from "Bridesmaids" or "The Office"), comes from a small, conservative town, and attempts to adjust to modern life in a big city with the help of her homosexual, aspiring Broadway star roommate Titus Andromedon (Tituss Burgess). She also attempts to make friends with the rich Manhattanite for whom she becomes a nanny, Jacqueline Voorhees (Jane Krakowski).
Throughout the show's first season, Kimmy experiences serious relationships, politics, the struggle to make ends meet and many more challenges, for the first time.
The show also delves into the pasts of Titus and Jacqueline. Jacqueline is Native American, but left her family in favor of the big city. Titus similarly moved away from his conservative home of Mississippi to pursue his dream of performing on Broadway.
The show is written by Tina Fey, who makes a guest appearance in the show. Jerry Minor, Jon Hamm, Tim Blake Nelson and other recognizable faces also make guest appearances in the show.
The show takes an odd story and turns it into a great comedy. It is extremely well written, and a bit more family friendly than a show like "BoJack Horseman." I'm not sure it's one of my absolute favorites, but it is definitely worth a watch