N-Style party service more like a nightmare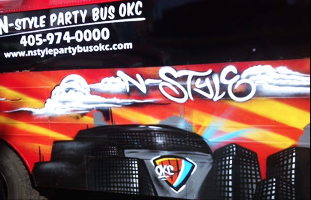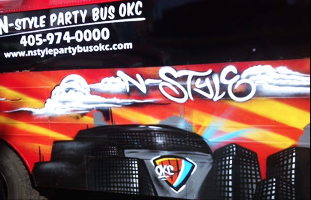 Take a Juicy J music video, any film starring Seth Rogen and James Franco, add several shots of Tequila and it still wouldn't compare to the mayhem I endured while aboard a party bus hosted by N-Style Party Bus.
N-Style is a local Oklahoma City party service whose website insists "a night on our bus will be unforgettable" — and it was.
First and foremost, I'll say I'm not a heavy drinker. I'm freshly 21 and prefer an afternoon of eating junk food and watching "Game of Thrones" to a booming nightclub with overpriced mixed drinks.
Despite this, I pressed my best button-down, sported my nicest Oxfords and boarded a magic school bus that would've made Ms. Frizzle weep.
Like any respectable party service, the N-Style Party Bus arrived fashionably late. Our original departure time was 9:30 p.m. but the host — a small, excitable man aptly named Happy — insisted he had to get ice, causing us to leave around 10:15 p.m.
If you've ever seen the NBC show "Parks and Recreation," Happy is Tom Haverford personified.
Upon arriving, Happy hurried us aboard and whisked us away on a journey I probably wouldn't have agreed to join if I were thinking straight.
While I was looking forward to an air-conditioned, neon-lit charter vehicle with expensive leather seats, we instead boarded a graffiti-decorated, tricked-out school bus.
It looked like it had just come from the set of MTV's "Pimp My Ride."
Plastic tubes filled with Christmas lights limply hung from the ceiling, doubling as handrails.
There was a makeshift bar with a small cooler, but the most impressive appendage was the dancing pole in the middle.
Once I boarded the bus, I found myself immersed in a cesspool of hot bodies and hedonism because drunk partygoers and lack of air conditioning rarely end up G-rated.
Perhaps the best part about the party bus was the pit stop we made before reaching our destination.
We pulled into an undisclosed parking lot in Moore and Happy's friends hopped aboard — a pair of gents who looked like they belonged in New Jersey and their female companion clad in what appeared to be the remnants of a prom gown that'd been drastically cut short.
I'm sure these were nice people. They probably just make bad decisions, like hanging out with Happy.
While my friend's birthday went well and we had a fun evening overall, I definitely would not book another N-Style Party Bus.
Rating: D-