Myanmar: They Ran Begging, Screaming For Food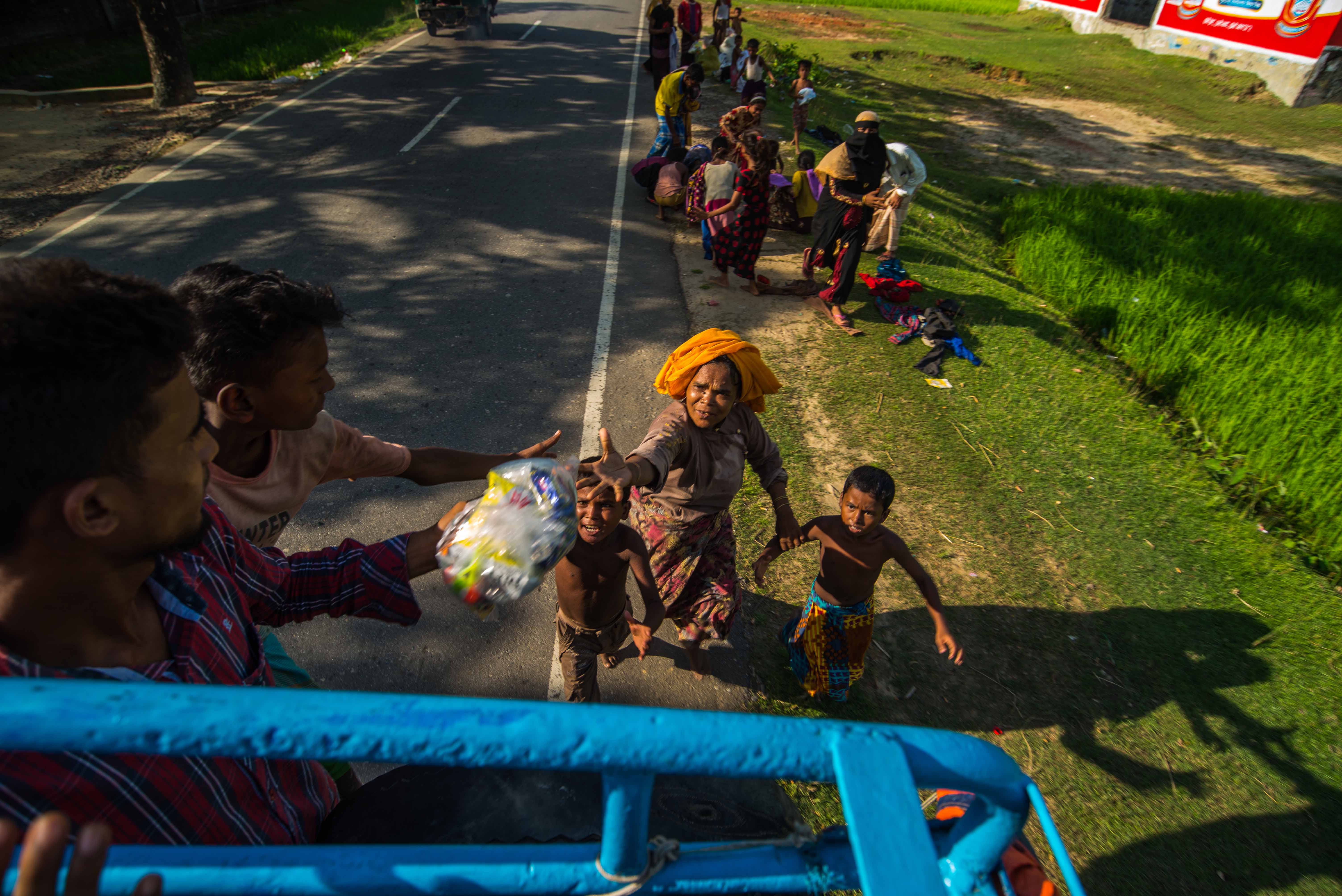 The truck drove slowly among streams of those who were starving and distressed. Cigarettes burned, flinging ashes on our truck, as our driver told us about the refugees. His words were fluent, his confidence reflected his knowledge of the crisis.
After a few miles we encountered the temporary refugee tents made with straws and plastic. The tents were on what was, just weeks ago, someone's farmland. Holding a pink umbrella, the land's owner kept gazing out at our truck as it passed, hoping we would leave a few donation boxes we carried. We avoided his gaze and those of the others.
We drove deeper into the camps. The amount of refugees kept growing drastically, making the farmlands beside the roads denser. Soon our truck was chased by 20 to 25 refugees, their limbs tired from days of walking through the border, screaming, asking for food.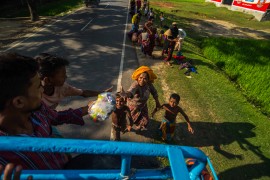 My colleague photographer spent no time to ask our driver to stop, so that we could hand out a few boxed meals,"Throw the dry meals at them, refugees will jump into the truck if we stop beside the road." I felt helpless as we all started throwing the packets of saline and protein candies at these people.

Some ran, behind our truck for miles. Most of them were children.

Noon approached and the sun was blazing stronger than ever. We reached Kutupalong refugee camp.
We saw hundreds of tents, and clouds of sand and dust. A tribal land that was once the reflection of beauty was now covered with litter and trash.  Since it was the only form of a drainage system, the water flowing in from the Bay of Bengal seemed lifeless.
Our truck, again, caught attention of the refugees. It took less than 30 minutes to handout our food and medicine packages as they gathered around.
"Things have gotten a bit organized now, when these all started the hunger was ferocious," our driver said. "They have learned discipline now."
As we stepped out of the truck, Rohingya gathered around. We soon came to understand the language barrier's impact, because they seemed to have tons of complains to share. However they soon realized their words were useless, because we didn't speak the same language.
We captured as much as we could in our camera. As we drove back down the same path, all we could see was disappointment alongside the road.
I sat down with Shantanu Paul, a traveller friend of mine, at a small coffee shop in Dhaka. Shantonu had just left the crisis zone, spending over 1.6 million taka in donations. A single dollar is worth 80 taka, which can buy meals for five people.
Paul reflected on alarming news of a disease epidemic. He said "I saw a woman running with a blade from one tent to the other to cut a pregnant woman's umbilical cord."
Shantonu mentioned if a contagious disease like cholera or diarrhea hits the situation will face its worst phase. When asked about the future of these refugees, Shantonu said "We will try as much as we can, however it's really hard to say whether a safe future is really possible or not."