Music venue adds color to college town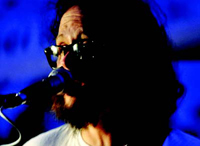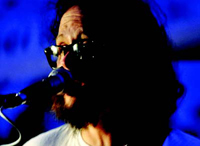 Courtesy Mike Hosty
Mike Hosty plays at 10p.m. every Sunday at The Deli, located at 309 White St. in Norman
As the weekend is coming to an end and Sunday night approaches, people are winding down and getting ready for the week ahead. But not the people in Norman — for them, it's just another night at The Deli, 309 White St.
It is not a rule that a person has to be a student to partake in what The Deli offers. There are many locals that are at The Deli every Sunday night. It is not even a rule that you have to be an OU student to be allowed in: There are often students from many metro-area colleges at The Deli.
Don't be discouraged with the occasional long line at The Deli, because it will move quickly and there is a view to everything going on in the inside.
The cost is $5 at the door and it is 21 to enter, but those who are underage have been known to watch from outside through the window.
Once inside, the popular drink The Deli offers is the legendary "Red Cup," essentially three drafts worth of beer in a single cup, for a reasonably low price.
Mike Hosty is a staple at The Deli every Sunday night "until the end of time," so says Big Bill Mulligan, The Deli's bartender.
Hosty's music is fun and funny, and lets the mind wonder. Titles like "Eat Yer Mac and Cheese" and "Fraidy Hole" bring out the laughter and the dancing of the crowd. While titles like "Took the Train" and " Married Man" get a little bluesy. Then the songs "Chewbacca" and "Pterodactyl" come on and the crowd just screams random sounds.
The main treat of the entire Sunday night Deli experience is "The Deli Light Show." Hosty begins playing "Oklahoma Breakdown" and no matter where people are in the bar, everyone comes running to the stage. It is the point in the night that commemorates a "Deli Night" for most. The song plays and then it goes into a chant, "a breakdown," "a crescendo," "a scream," and "a light show" four times over. The red, yellow and green lights of The Deli begin to flash and the crowd goes wild.
It might not sound like much, but being caught up in the moment with a Red Cup and some great friends will be a Sunday night that you will want to repeat over and over again.
Hosty plays every Sunday.
Rating: A+
To contact Emily Schorr, email seniorwriter@occc.edu.