More than 50 brave storms to attend art portfolio opening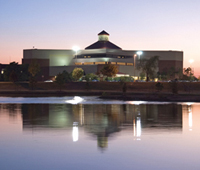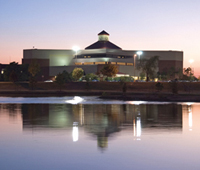 More than 50 people braved stormy weather to attend the art portfolio exhibition opening during the evening of Friday, April 13.
For those who missed out, the exhibit will remain on display in the art gallery in the Visual and Performing Arts Center until the end of the semester.
The art show features drawings, paintings, sculptures, ceramics, mosaics, serigraphy and more.
The graduating class of visual art majors displayed their work at this year's exhibition. Even though the weather scared some people off in the beginning, the show was a great success, said art Professor Mary Ann Moore.
"It was super," she said. They had live music, nice hors d'oeuvres, and awesome artwork.
Even the artists felt uneasy about the weather.
"It was a little scary in the beginning, just getting here," said Joe B. Garcia, one of the artists with pieces in the show. "I realized it was getting to be rush-hour and the storms were rolling in. Everybody was scared.
"I got here and it went really well. There was already a crowd right at the beginning," Garcia said.
Garcia said the first oil painting that he really focused on is on display in the show.
"Heart Heavy as a Bag of Stones" depicts a deep red heart muscle with chambers and veins draining into an assortment of smooth pebbles.
Garcia's screen printing piece "Projection" made it into the exhibit. This artwork shows the face of a girl wearing an octopus hat. A crow perches atop the octopus.
Also Garcia displayed a three-dimensional bobbin cube, tilted on one corner. The little round bobbins are gray and black, except for one red bobbin. He named it "Cosmic Cube."
Everything in the exhibition is tied to a class project whether indirectly or directly, Garcia said.
Several artists included their graphite renderings of a sheet of cloth draped over a form.
"The sheet drawings are part of a class project where we worked on dimension, folds, and shadows," Garcia said.
Jessica Kemp created a piece with hundreds of colored beads, entitled "Ben Day Dots." Kemp used the image of the painting masterpiece "Man in the Bowler Hat" for her project. The same painting is the image for the art gallery sign.
It was her final project in the two-dimensional design-and-color design class.
OCCC President Paul W. Sechrist braved the storms to attend the exhibition opening, Garcia said. "That was really nice."
Each graduating artist has six to seven pieces on display in the show.
Annie Dang produced "Skyscrapers," a mixed media project that is a detailed cityscape.
"Shell" is an acrylic brown-and-white shell on a deep black background created by Christopher Nettey.
The other artists are David Ramsey, Nikkita Bowler, Francisco J. Perez and Jose Delora.
To contact Natalie Storgards, email onlineeditor@occc.edu.