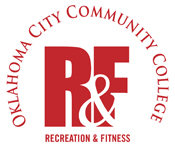 New workout equipment in the Recreation & Fitness department at OCCC has garnered a lot of interest throughout the college, said Recreation and Fitness Director Michael Shugart.
Shugart said, he wants to make sure students feel comfortable using the new machines even if they have limited experience. He said each piece of equipment is connected to the MINDBODY app.
"All students have to do is have a smart phone … ," he said. "You scan the QR code (on the machine) and it plays a video of how to use the machine."
He said students can get a free workout that rivals any gym around.
"If a person would come in and use every piece of equipment that has a QR code on it, they would get a full body workout doing that."
Electrical engineering major Eivy Arroyo said he's been working out at OCCC for about a year. He said it's great to have the new equipment.
"I use it more frequently," he said. "I hated it before. It was really crammed."
Arroyo said although he noticed the QR code on the new equipment, he hasn't used them because he already knows how to use the machines.
Chemical engineering major Jordan Shoop said he has been working out at the college for one year.
"I started coming in here to kill
time in between classes," he said. He said he also hasn't used the QR codes."Don't have any need for them. Weight is weight."
Shugart said students also can ask the Wellness Center attendants for additional help if needed.
Wellness Attendant James Gibson said while the attendants aren't personal trainers, fitness novices are in good hands if they have questions.
"We are [there to help students]," he said. "We aren't certified trainers or anything but we know how to use the equipment."
Shugart said those who do want t
e help of a personal trainer can set up an appointment through Wellness Center Manager Brooke Dresel.
"Brooke Dresel is qualified to be a personal trainer," he said. "If anyone is interested in setting up a one-on-one personal trainer [appointment], they can contact her … ."
Shugart said Dresel plans to eventually hire additional trainers as well.
He said students also are encouraged to try out the free fitness classes — some of which use the new workout equipment.
For more information on the fitness classes or personal trainers, visit www.occ.edu/rf
. Dresel can be reached at bdresel@occc.edu or at 405-682-7860.