Michael Brooks-Jimenez Sworn in to State Senate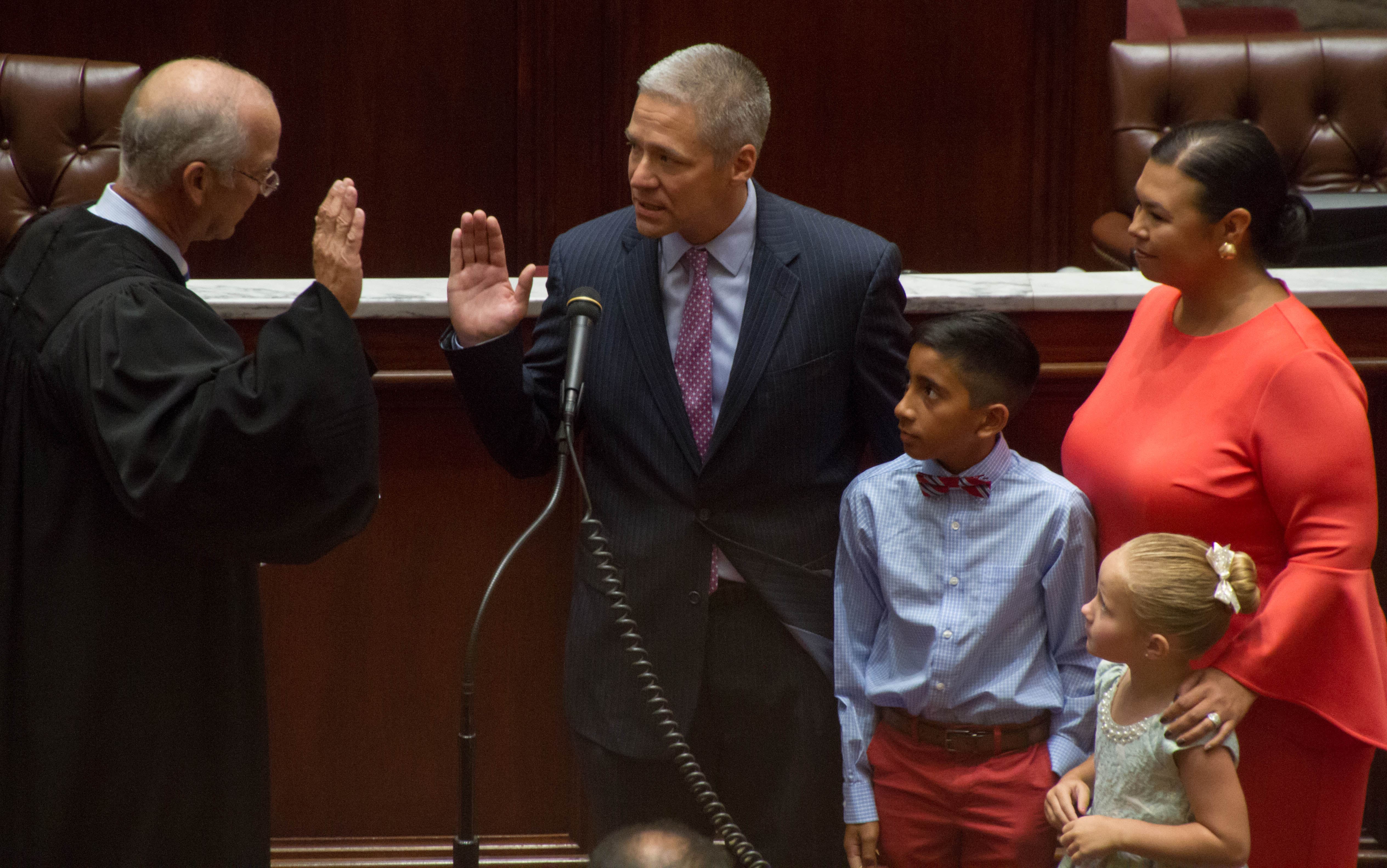 Michael Brooks-Jimenez ran twice to get elected to the Oklahoma Senate.
This month, Brooks Jimenez, an immigration lawyer, was chosen to represent State District 44, after Ralph Shorty was removed from office.
Brooks-Jimenez said he wants to bring a better impression to the leadership in the district. "Given the circumstances my predecessor left office in, I want to create an environment of trust, and integrity that hasn't always been there," he said.
Brooks-Jimenez said he would like to increase education funding, retain teachers, and try to deal with the massive debt the budget has accumulated over time.
"The problem is that the last year in the budget we came up 1.3 billion short, so we need to increase revenue," he said. He would like to increase teachers salaries, because it is necessary to keep new graduates in Oklahoma, and avoid large classroom sizes.
Since the last time he ran, Brooks-Jimenez said that he was able to really get to know his potential constituents, and their needs by getting the community together for events like a block party in June, and door knocking before the election.
Jeff Williams, a political activist, said the election was successful because Brooks-Jimenez had a solid base, and "left" pointing values.
"Definitely his team were rock stars," he said. "His progressive values appealed to volunteers of all ages, and his concise clear message of putting [the] people first resonated well."
Williams said he actually had decided to run against Shorty in the primaries next fall, but after the incumbent's charges he said "the game changed." For the special election, he agreed with Brooks-Jimenez, and didn't want to split the ticket for Democrats, so Williams decided to support Jimenez instead of running against him.
"My expectations are simple: put the people first before money, and corporations," he said.
Williams said that he wanted Brooks-Jimenez to focus on mental health, the elderly, nursing home care, small business growth, and several other issues.
Some constituents believe that Brooks-Jimenez could be a voice for the growing hispanic population in Oklahoma City.
Sinead Maguina, a volunteer in the campaign, said she hoped that Brooks-Jimenez becomes a voice for hispanic citizens and is able to conform to their needs.
Maguina said the community wants a leader that can understand their needs. "I expect a lot of community involvement in the sense that I hope he gets the south side and Spanish speaking citizens more involved in our local government," she said.
Arturo Delgado, a constituent and volunteer, said that he and his family volunteered, because they wanted a "good family man" to be in office.
"With the good family values Michael has, I see him doing more for average families, better job opportunities, including better treatment for our teachers," Delgado said. "And he's also talked about doing more community events (Town-hall Meetings)"
Arturo said he is sure Brooks-Jimenez will do wonders for District 44's community.
Early Tuesday, Brooks-Jimenez was officially sworn into the Oklahoma Senate where he said that he's in it for his constituents.
"One thing during the campaign that I wanted people to know is this campaign wasn't just about me, this campaign was about each and every person in this room," Brooks-Jimenez said. "People who donated to this campaign, the people who volunteered for this campaign, and people who prayed for me during the time this campaign was going on."
Brooks-Jimenez said the capitol is a place for the people, and it is humbling for him to work for the people officially as the State Senator.