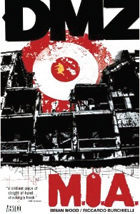 "M.I.A" is the 9th volume of Brian Wood's DMZ graphic novel series about photojournalist Matty Roth covering the America's second Civil War being fought in New York City in the near future.
"M.I.A" could be referring to the suspension of belief after Wood had a nuclear explosion go off in Manhattan in Vol. 8.
Anytime a nuclear explosion is dealt with in fiction, it causes the reader to ponder if the series has jumped the shark, or in this case, "nuke the fridge."
The fallout from those events cause Roth to take a good hard look at himself and his involvement since he started covering the DMZ.
Wood's story for "M.I.A" sort of plods along as it gears toward its climactic conclusion later this year.
Regular readers might wonder if Wood would have been best served exploring the political undercurrent of the DMZ a little more like he had in previous volumes.
Regular series artist Riccardo Burchielli's art is fantastic and the 50th issue collected in the volume features guest art from creators Jim Lee (Batman, X-Men) and Dave Gibbons (Watchmen), and other frequent collaborators of Brian Wood.
Wood is one of the most talented creators working in comics currently, but one wonders if he didn't misfire in the latest volume while covering the war in the DMZ.
DMZ Vol. 9 "M.I.A" published by DC/Vertigo Comics retails for $14.99.
Rating: C-