'Mercy' works too hard, fails to satisfy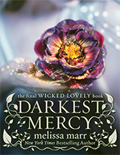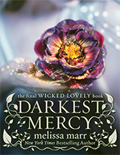 "Darkest Mercy" is the fifth and final book of the faery series written by Melissa Marr. It brings to a conclusion all the plots Marr wove throughout her books of faery intrigue.
Marr's writing is eloquent and detailed. She offers many different viewpoints throughout the book to allow readers to experience all the action from all sides.
The characters are well developed, especially if the audience has read the previous books of the series.
If anything, there are too many characters for the brief series to do most of them justice. Readers are left yearning for more details of the history brought up between some of the characters.
Marr spends too much time during the first part of the book fixing her characters' relationships. It gives the book a slow start, particularly when compared to the earlier, better books.
The action, when she gets to it, is well written. There's just not enough of it.
Aislinn, the main character throughout most of the series and a major player in this book, has been forced to make some tough decisions during her tenure as Summer Queen.
Keenan, the Summer King, is left pining for his true love Donia, the Winter Queen, throughout much of the book.
Marr manages to close the book on a "happily ever after" note.
Unfortunately, the ending is not very believable. It seems too easy.
Marr spent too much time earlier in the series vilifying faeries in general, including Aislinn's desdain toward the species despite her transformation into one.
Darkest Mercy closes all the plots left open, answers all questions. For someone who has followed the series, it's worth reading.
For newcomers, it's not worth the trip to the library unless they really like faery tales.
Rating: C