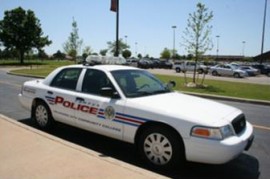 Police responded to several calls recently including a head injury at the Arts Festival Oklahoma site.
At around 4 p.m. Aug. 29, worker Miguel Rivera was helping erect tents at the Arts Festival area on the northwest corner of campus when a tent pole fell, hitting his head.
When Officer P.T. Solinski arrived, a shirt was being used to apply pressure to Rivera's head, according to the report, and blood was dripping down the man's face.
Rivera was taken to Integris Southwest by EMSA for further treatment. The hospital declined to provide any further information.
On Aug. 27 two engineering students had a dispute that ended in one student pretending to spill coffee on the other who, he said, had made disparaging remarks to him.
Officer Zachary Andrews said the man claimed that he and others were being belittled during class, so he made the motion of spilling his coffee on the man but said the lid was on.
Andrews said no harm came to either student, but said he filed a Student Conduct Code violation to the office of Student Life for both students.
On Sept. 1, police were called to investigate a disturbance in the Testing Center at 4:35 p.m. after one student confronted another, alleging that man had skipped out on a lunch receipt at an area restaurant.
When police arrived, the student who had created the disturbance became upset after being detained by Andrews and Officer Jeremy Bohannon, according to the report.
He asked officers if he was under arrest or if he was free to leave. When he wasn't allowed to leave, he asked students in the area to film the officers.
The officers told the man they needed to know what had happened to cause him to confront the other student.
He then told them he was concerned he would get in trouble since he had been with the man who didn't pay his bill. A student misconduct form was filed for one of the students but the name was redacted from the report. After it was decided that neither man had any outstanding criminal charges, they were both released.
On Aug. 29, Officer Patrick Martino noticed a man in a moving car arguing with a woman on foot in parking lot A. Martino was flagged down by Taylyn Walker who asked the officer for assistance.
The woman said she and the man had been visiting a friend who lives near the OCCC campus. She said the argument started when she left the house against the man's wishes.
The man, Brayn Anderson, followed her. During a check by Martino, it was discovered Anderson had an outsanding warrant in Oklahoma for a violation of suspended sentence.
He was arrested and was taken to the Oklahoma County Detention Center.
Some information was redacted from the reports under the direction of Marketing and Public Relations Director Cordell Jordan who said names are redacted "according to OCCCPD Standard Operating Procedures involving information released and information withheld."
To obtain a copy of the procedure, email cjordan@occc.edu.
To contact campus police, call 405-682-1611, ext. 7747.
For an emergency, use one of the call boxes located inside and outside on campus or call 405-682-7872.