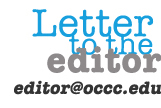 To the Editor:
If you have ever been late to a class on the third floor or considered the luxury of toting your books around in a wheeled bag, then you might have considered using the elevator behind the coffee shop.
You might reconsider once you became aware of said elevator's track record of becoming "over limit" far under the posted limit and getting stuck, sometimes for minutes, sometimes longer.
If you have ever walked by the coffee shop and heard a shrill whining sound emanating from the elevator, yes, it is indeed stuck.
While this is a fairly regular occurrence, it is generally quickly fixed — temporarily — and the college has apparently done little to nothing to fix it permanently.
If the prospect of getting stuck in a cramped place with a cluster of people you do not know for an unknown amount of time isn't enough to cause you to avoid the elevator, then it is also worth noting that several times while I was waiting for the elevator, the doors have come open with no elevator visible, leaving the shaft open as the elevator arrives.
Another time, after my class let out, the teacher asked several students to stay and assist her in bringing some of the students' larger poster boards down to her office.
As three people got on the elevator, it groaned and then proceeded to sharply drop two feet.
The door remained open during this unexpected fall and then, the elevator stayed two feet lower than it should without falling farther.
As the elevator continued to emanate low groans, the rest of the class agreed the stairs might) be a better option.
Even if, after a long day of classes, the elevator seems like a welcome relief for your tired feet, consider taking the stairs.
It is a healthier option and it may very well help make sure you get to class on time.
—Kelsea Burton
Child Development Major