Lt. Gov. Lamb urges students to stay in Oklahoma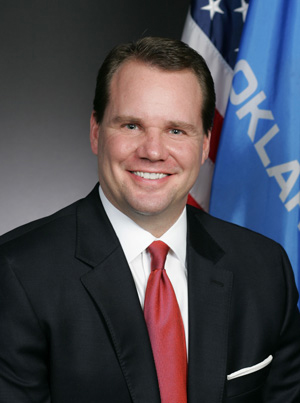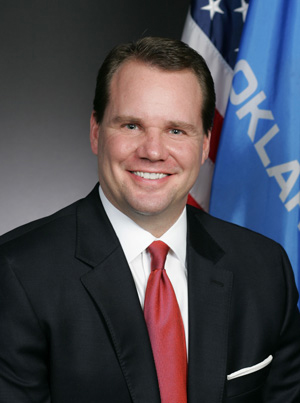 Lt. Gov. Todd Lamb
"Don't leave Oklahoma," was the main thread spun through a talk given by Lt. Gov. Todd Lamb on Tuesday.
Lamb came at the invitation of his fellow party members in the OCCC College Republicans, and spoke to an audience of college officials, faculty and students about the growth he believes is coming to Oklahoma.
Lamb led off by defining his job as "a portfolio of thirds."
The first third, he said, is his role under the state constitution, working with the legislature and handling the governor's duties when necessary.
The duties assigned by the governor make up the second third, Lamb said.
"As some of you may remember from high school, the governor and the lieutenant governor are elected separately. So they don't always necessarily like each other," he said.
"But Gov. Fallin and I do like each other and get along. Which is why one of her first cabinet appointments was to ask me to be a small business advocate."
In that role, Lamb said, he represents the entire small business community in Oklahoma, which is 97 percent of the business community as a whole.
But it was the final third that wove through the entire talk.
"The last third is my passions — the tasks and dreams I want to accomplish. And what I dream about, what I want to see, is Oklahoma beat Texas in something other than football," Lamb said.
"We have growth coming, a renaissance, in so many areas.
"But students leave and what does that say about public policy — that we suffer a brain drain because our graduates seek opportunities elsewhere?"
Lamb said when he gives commencement speeches, he stresses that the opportunities are coming, are already here in some cases, and not to leave the state.
"And for those students that may have gotten a job offer out of state, I always say, 'go, but hurry back!'" he said.
"I tell them it's like buying the first house in a new neighborhood. That value will start climbing, and then it's only going to go up from there."
Those opportunities are coming from all directions, he said.
"Yes when we think of growth, we think of agriculture, and oil and natural gas. And those will always be important because of what we grow in the ground and what we have in the ground.
"But there is so much innovation. Business, manufacturing, aviation and aerospace, there's so much growth happening. This renaissance will come from everywhere."
Lamb said he has a very specific vision.
"When I close my eyes, I see two students packing up after finishing college, with the Texas Longhorn, or Baylor Bear, or the Stephen F. Austin Lumberjack on their bags. "And one student looks at the other, and asks, 'So where are you going after this?'"
"And the other student gives them a look as if it's the silliest question and says, 'Oklahoma, of course. That's where the opportunities are.'"
To contact Jeremy Cloud, email editor@occc.edu.