Lowball prices for a good time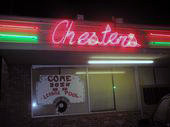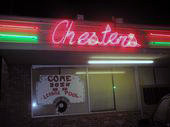 It's been rough on the wallet for the last couple of years, and planning a date or a fun night out with friends can be difficult.
But for those who enjoy shooting pool, or a round of billiards, salvation is at hand.
Chester's, a hole in the wall establishment on NW 50th and May, tucked away behind the Walgreens, is everything fans of the game could want in a pool hall, with few of the drawbacks.
Pricing is remarkably low, starting at $3.50 per person per hour for up to four people.
Large groups will usually be charged a flat rate of $10.50 per hour. Customers must be 18 to enter and 21 to drink.
With more than a dozen tables — ranging from tournament legal tables to the small coin tables that most associate with bars — Chester's offers a variety of options for players.
And on the weekends, when the place can get packed, would-be players can enjoy freshly cooked food from an extensive menu.
The drawbacks are few, but significant.
Chester's allows smoking within the building which is good for smokers like this author, but bad for those who want to breathe easy while playing.
The jukebox is the only source of music and while the selection is good, the machine only takes bills and does not give change or refunds.
To get their tunes, customers have to pay at least a dollar, and much more than that to skip the queue if there were others playing songs first.
And this author has personally witnessed someone mistakenly feed the jukebox a $20 bill, only to find that there was nothing he could do but buy $20 worth of songs.
Finally, the rough and casual nature of the place makes it unsuitable for the easily offended or those seeking a romantic night.
Overall, Chester's is a good bet for those who want to kick back, knock some balls around and indulge in short order snacks.
But those who dislike cigarette smoke, coarse language or the classic bar atmosphere would be better off paying the extra to see a movie, and get dinner out.
Rating: A-
To contact Jeremy Cloud, email editor@occc.edu.