Local bands open rock concert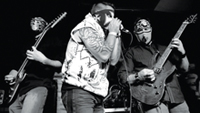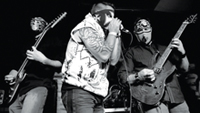 Courtesy Ginnie P. Escobedo
Lock 17 performs Nov. 2, opening for legendary rock band Anvil.
How many local bands have the privilege to open up for one of the legendary bands in metal history? On Nov. 2, One Gun Solution, Left to Die and Lock17 opened up for none other Anvil at the Roxy.
"I am not a big heavy metal/rock listen and I rarely go to concert, but I enjoyed being there," said concertgoer John Kennedy.
"I really enjoyed One Gun Solution and the cover song that Left to Die did Crimson and Clover originally sung by the 1968 American rock band, Tommy James and the Shondells."
Some fans stayed until 11 p.m. just to see Anvil perform.
"No offense to the other bands that were there but really, all I wanted to see was Anvil," said fan Sean Rustle.
"I have been a fan of Anvil's music since I was a boy and seeing Anvil live is just an opportunity that I would have never passed up."
Anvil is a Canadian heavy metal band composed of Steve "Lips" Kudlow (lead vocals and lead guitar), Robb Reiner (drummer) and Glenn Five (bass guitar and backing vocals).
To date, the band has released 14 studio albums, and has been cited as having influenced many notable heavy metal groups, including Megadeth, Slayer, Anthrax, and Metallica.
Anvil has been playing since 1973 according to the 2008 documentary film Anvil! The documentary, "The Story of Anvil," was directed by the screenwriter and former Anvil roadie Sacha Gervasi.
"Those guys put on a great show and we are very grateful to have been on the same stage with them," said Rusty Wigham, rhythm guitarist for Lock17 and an OCCC alumni.
"We will be bragging about it for a long time to come," Wigham said.
"Anvil was great. We watched them as we grew up so it was an honor."
Jeremy Waller, the lead vocal and rhythm guitarist for Left To Die felt the same regardless of the number of fans at the show.
"The crowd was a little thin but it was Wednesday in OKC, plus there was some other big shows that night but that didn't matter to us. We had a blast and got to meet some of metals originators. They were one of the nicest bands we have ever had the privilege of opening for. That's the stuff we live for."
Dave Washburn, the lead singer of One Gun Solution continued the praises.
"Opening up for a band that helped shape the way metal sounds today was definitely a sobering experience.
"It was nice to sit back and watch the guys setup their gear and sound check thinking about the days when they were where we are at today. Definitely a one-of-a-kind experience playing with metal masters Anvil," Washburn said.
Meeting Anvil was an experience that is not soon forgotten.
Lock17, Left To Die and Munkie Gunn can be seen again opening for Texas Hippie Coalition on Dec. 9 at the Samurai, in Club Raw, which is located at 3034 N. Portland across from Don Quixote's.
Tickets will be $10 in advance and $15 the day of the show.
To contact Ginnie P. Escobedo, email onlineditor@occc.edu.