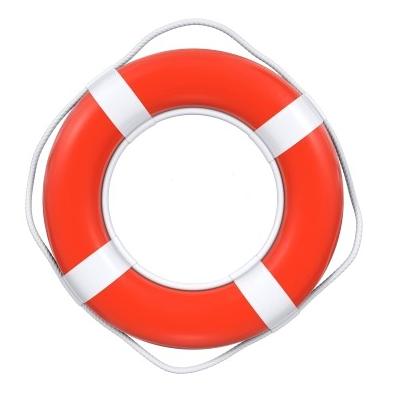 For the summer months, aquatic sports and other water-based activities can often be the optimum means of gaining relief from the consistently intense Oklahoma heat.
So when visitors and students of OCCC use the Aquatic Center to cool off, the college's lifeguards are always on hand to use their training to ensure safety in, as well as out of, the pool.
Lifeguard Ryan Domstead said the steps to becoming a lifeguard for OCCC require an individual develop an important collection of skills that are built to ensure not just a swimmer's safety but that of the lifeguard's as well.
"You have to be comfortable in the water — especially at great depth," Domstead said.
"You have to be able to swim to the bottom of the dive well without any problems [before you can qualify.]"
Lifeguard Deven Thompson said the training comes in handy away from poolside as well.
"Just a few weeks after training I came across a car accident and one of the people in it was a pregnant woman," Thompson said.
"By law we can't go past our training; we can do CPR and make sure people are OK but I stayed calm and tried to deal with the situation based on what I had learned.
"Everyone was OK, they were just a little shaken up."
Lifeguard David Dube agrees with Thompson's assessment and said his training also allowed him to develop habits that helped him deal with a serious medical situation.
"I always carry my guard whistle with me wherever I go," Dube said.
"I was helping a guy who said he was having chest pains.
"We were walking and he collapsed and we were so far away from anyone else that, if I were yelling, nobody might have heard me; so I blew on my whistle — I don't think I've ever blown my whistle that loud before – and we got him help."
For families looking for a group outing, Lifeguard Brian Ferchau's advice is to exercise caution and know your child's limits before you take to the water.
"If you come [to OCCC] as a family and you have a young child, put a life jacket on them." he said.
Dube said that one of the most important pieces of advice he can give to swimmers looking for a summer trip to the lake is, not to mix water and alcohol.
"Don't swim drunk," he said.
"Your body doesn't function like you think it does while you're drunk and it can be dangerous when you think you can swim and you can't."
For those interested in visiting the Aquatic Center this summer, the hours of operation, and list of aquatic programs and classes can be found by visiting the Aquatic Center homepage at www.occc.edu/rf/Aquatic.html.