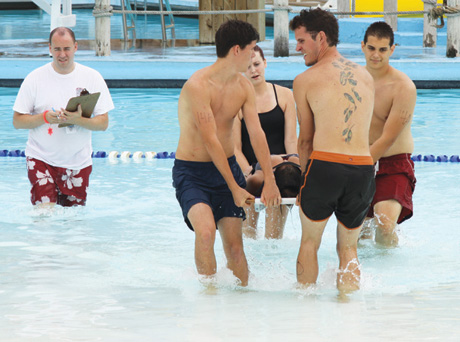 View slideshow
For the past 25 years OCCC has hosted the Southwest Regional Lifeguard games which came to an end July 9 at White Water Bay.
Head lifeguard Tre Kramer said OCCC's Senior Lifeguard team came in fifth out of 15 teams, placing second in Spinal Injury Management, fourth in Deep Water Tug-of-War, and 11th in the Reach, Tow and Rescue competition.
Kramer won the male Iron Guard award. For the Iron Guard award, Kramer said, judges look for someone exceeding the expectations of lifeguard duties.
"The competition helps us see where we are lacking and enforce that in our lifeguards," Kramer said.
He said the team spent weeks before the competition preparing to compete against teams from Texas and Arkansas.
Kramer said when a person lifeguards, he or she is responsible for someone's life.
"Big things don't happen very often," he said. "But when they do, there's a big difference between someone who takes their job seriously and ones that just want to get paid.
This was the last year for the games.
In an e-mail, Recreation and Fitness Director Roxy Butler said a nationwide shortage of lifeguards and tight budgets made it difficult for facilities to send several lifeguards away from their facility to participate in the competition.
"While this was the last year for the Southwest Regional Lifeguard Games, we plan to re-evaluate and develop a new competition that will meet the current needs of the facilities and the guard staff," Butler said.
Kramer said he is disappointed the games — which usually has 24 teams competing — won't be held again.
"This is a great way to get people in here to practice their skills and build a community," Kramer said. "I'm really disappointed to see it fizzle out."