Library reserve program offers textbooks for check-out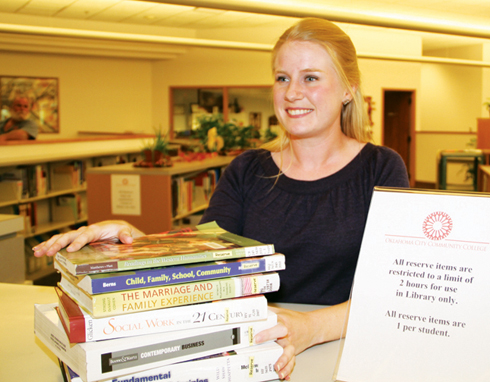 Rachel Morrison/Pioneer
Student and library assistant, Sarah Hausner, displays some books from the text book reserve available to students to check out at the circulation desk in the library. Students may check out text books for up to two hours.
There's more than one place to read a textbook.
Students who don't have a textbook at home can use the library's reserve collection, said Emily Lewis, library circulation assistant.
One hundred thirty professors participate in the textbook reserve program maintained by the Keith Leftwich Memorial Library, Lewis said.
Some of those instructors request books for more than one course, depending on what they teach.
Students can borrow a textbook for up to two hours at a time. All they need is their student or photo ID. It helps to have as much information as possible available to give the librarian to ensure the right textbook is received, Lewis said.
Textbooks can be checked out any time the library is open, and must be returned by 10 minutes before closing time, she said.
There are often multiple copies of textbooks for the most popular subjects like history, psychology, sociology and political science.
Two copies are available for most other subjects. Some of the more degree-specific courses may have only one copy, Lewis said.
She said the most common reason students use the textbook reserve program is they are waiting for their financial aid to be credited to their accounts.
Lewis said although use of the books is heaviest during the first month of classes, there are plenty of regular users, too.
Once they can afford to do so, she said, many students seem to prefer to purchase their own books so they have more flexibility in their study habits.
Rosetta Henderson is a first-semester student at OCCC who said she uses the library textbooks for her two classes on an almost daily basis. Without the program, she said, she would be behind in her studies.
Student David Timothy said he has used the program in the past. He said it's a great program.
Cara Seikel buys her books from the college bookstore, but said she knows about the library's copies, as many instructors mention their availability at the beginning of the semester.
"It would save a lot of money to go look at the books during study time."
In the future, Seikel said, she might consider using the library's copies rather than buying textbooks.
If a student is interested in using a textbook the library doesn't have, the student can ask the professor to request it and the library will order it from the bookstore, Lewis said.
The library typically sends letters out in July and August asking instructors who have previously participated to update their book list. This can include both required and optional textbooks, as the instructor requests.
Lewis's one request is that if students do use the textbooks, to please remember to turn them back in before leaving so they're available for other students to use also.