Lealon Taylor works to increase scholarships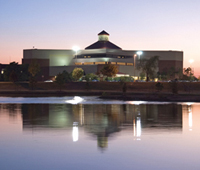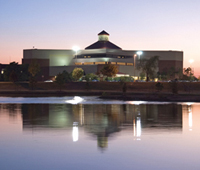 A former employee for the state education department is bringing his expertise to OCCC. Lealon Taylor recently joined the administration, replacing Pat Berryhill who recently retired.
Taylor, OCCC's new executive director of Institutional Advancement, arrived in January, just in time for the spring semester.
Previously, Taylor was employed by the Oklahoma State Department of Education where he served as Chief of Staff for the agency and worked daily for promoting public education.
Taylor said when he heard about the position at OCCC, he was more than excited to take on the challenge.
"When I first heard about this job opportunity, I knew immediately I wanted to be part of the tremendous success that OCCC has accomplished so far," Taylor said.
"I also knew that Dr. Paul Sechrist had an excellent reputation as a college president and wanted to be a part of his team."
As Executive Director of Institutional Advancement, it is Taylor's job to help organize and create events that will help benefit students financially.
His office works in partnership with the OCCC Foundation, which primarily funds scholarships for students.
It also oversees the marketing and public relations of the college, and coordinates grant opportunities from government and private sources.
Big Truck Taco day, which was held on campus April 7, was just one of the special events Taylor organized as a fundraiser for the Foundation.
Taylor said being able to promote all the positive aspects of OCCC is very rewarding.
He said his goal is to inform everyone of the excellent educational and cultural opportunities offered, and show that OCCC really cares about its students and success.
"We have a great reputation, and I want to continue that positive image in the greater Oklahoma City community," Taylor said.
"I also want to grow the OCCC Foundation, which will expand student scholarship opportunities."
Taylor said he is most excited about the low-cost tuition and small class sizes offered to students.
"I am amazed at the quality staff, faculty and student body at OCCC," Taylor said.
"I am proud each and every time I tell someone I am employed at OCCC."
For more information on student scholarships, you can contact Lealon Taylor at ltaylor@occc.edu.