Laser tag tourney draws nine teams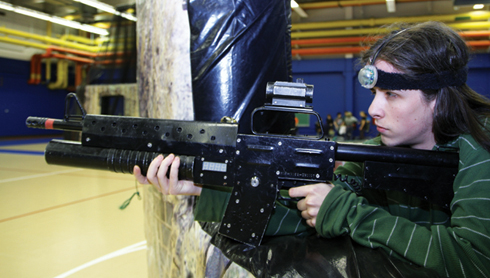 Rachel Morrison/Pioneer
Computer programming major Kody Manharth sets his sightss on an opponent with his uzi-style laser gun April 27 during a laser tag game in the college's gym. Mobile Laser Forces Inc. provided all the guns and equipment which used infrared technology to keep score for the nine squads that entered the contest, said Recreation and Sports Specialist Eric Watson.
On a rainy afternoon in the OCCC gym on April 27, Laser Tag stormed onto the scene in full force.
Mobile Laser Forces sponsored the event, and provided the weapons and obstacle course.
"This is the first time that OCCC (has had) Laser Tag as an Intramural sport and I'm really excited with the turnout," said Eric Watson, Recreation and Sports specialist.
Nine squads consisting of five members per team competed in the occasion.
Team OCCC1 dominated Ginyu Force in a professional fashion during the first round 5-0.
"I have played Laser Tag a couple times and I can't wait to play again," OCCC1 team member Ryan Campbell said.
Pathways High School student Sean Phillips played for the second place Power Rangers.
"It was really fun," Phillips said. "I really enjoyed dominating."
Overall champions Testosterone escaped with a win by the skin of their nose.
The final match came down to two members of Testosterone attacking one member of the Power Rangers.
One false move, and Testosterone claimed victory.
"Being quick and fast were keys to victory for us today," said Devin Thompson, Testosterone team member. "Staying agile, mobile and hostile definitely helped our team declare victory today.
"I believe this new addition to intramural sports will have a bright future here on campus," Watson said.
The champions were presented with Intramural League Champion shirts and bragging rights until next spring.
For more information, contact the Fitness and Recreation office at 405-682-7860.