Language professor to retire after 21-year career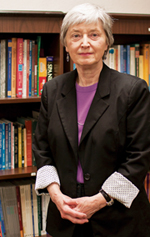 Chris James/Pioneer
Dianne Broyles, professor of modern languages, stands in front of a book case in OCCC's World Languages and Cultural Learning Center. Broyles actually donated many of the books on the shelf behind her during her 21 years at OCCC.
French and Spanish Professor Dianne Broyles will be saying "au revoir" and "adios" to OCCC students, faculty, and staff as she closes the door on her 21-year career in May.
As a professor of modern languages, Broyles said she intended on leaving and passing down her title at the end of her twentieth year but, when the time came, she was a bit unsure about retirement.
Broyles is now sure this semester will be her last.
"I believe this is a good time for me to have a more flexible schedule and for another language professor to have the opportunity to teach at OCCC," Broyles said.
Broyles previously held two other titles at OCCC: 10 years as department chair for Languages and the Arts and one and a half year as acting director of the department of Communications and the Arts.
Broyles said she has always loved studying languages. While in college she decided that teaching would be the most rational career option.
"I wanted to share my passion for foreign languages and cultures with others, and I have enjoyed it very much," Broyles said.
Linda Robinett, professor of learning skills, said Broyles has touched the lives of not only OCCC students, but also fellow faculty as well.
"She pioneered the online courses for foreign languages," Robinett said. "She led many student trips. She led faculty development workshops and was always a star in the OCCC choir. She is just involved in everything."
Broyles has encouraged her students to travel to other countries, including trips to Mexico, Ecuador, Spain, and France.
"I have also participated as an instructor in 12 travel-study courses and about 18 Spanish Immersion weekends," Broyles said.
Broyles said she has much to look forward to after her retirement.
"My plans include practicing my French and doing more music, especially singing," Broyles said.
"I also hope to travel more both in the U.S. and abroad. My husband and I really enjoy traveling together."
Robinett said, with Broyles' passion for languages, culture, and music, she was the perfect fit for OCCC and will leave a lasting legacy.
"She is so enthusiastic and dedicated, and has accomplished so much here. She is a huge deal to the college."
To contact Ariel Watkins, email onlineeditor@occc.edu.