Journalism students tour local newspaper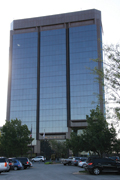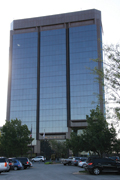 Sara Hussain/Pioneer
The Oklahoma Building was the destination for OCCC journalism students Sept. 28.
OCCC's Introduction to Mass Communications students took a tour of the Oklahoman Sept. 28 to gain knowledge of how a publishing company operates.
Joe Hight, director of information and development for The Oklahoman and NewsOK.com, led the tour.
Hight, trying to impress upon the students a sense of history early in the tour quoted Thomas Jefferson in saying, "For if left to me to decide whether we should have a government without a free press or a free press without a government, I would prefer the latter."
This illustrated the foundation of the media in early American history, but he also stressed personal development.
"The most important thing you can do is starting early to form the foundation of your career," High said.
"If you wait until you're about to graduate, you're starting way too late."
"If you're in communications, [starting early] includes working for your college media, getting internships and learning what it takes to pursue your particular career."
Hight noted that Thom Shanker, Pentagon correspondant for the New York Times, started at The Oklahoman many years ago. Shanker spoke to Hight about how the foundation he established at The Oklahoman was important for him to learn the fundamentals.
Hight said Shanker is asked a lot today about how to get his job as the Pentagon correspondant for the New York Times.
Shanker advises learning the fundamentals of working certain beats, not missing anything and honing in on skills.
"Learning those fundamentals led him to Moscow and different places as well," said Hight.
"It's very important to get good grades, but it is also very important to gain experience through whatever the college offers. That is the beginning of the foundation.
"Then the foundation grows to getting internships outside where you can build relationships and start networking and you can start building what you need for the future."
Hight said many students have the perspective they'll start out at the big companies right away. Most of the time this is not the case. Usually people earn awards and credibility at another job and are noticed by the larger places and, over time, they look into hiring that individual.
Hight also pointed out interns are not always hired immediately after their internships at The Oklahoman. Many go on to other internships or jobs and, if they come back, the likelihood of getting hired increases.
"Its not a straight path, it never has been a straight path and you have to realize you may end up in places you never intended to be in the first place," Hight said.
"Most places will ask for your published work, whether it's writing or video."
At a stop in the tour at one of the Oklahoma Publishing Company's video studios Hight explained the differing tiers of video.
"If you are in the media in the future you will need to understand what the different tiers of video are," Hight said.
"Tier one is basically a shot of an individual talking.
"Then you get into tier two and three which ad b-roll and tier five adds actual production work.
"When going into an interview, you need to learn about the place," Hight said.
"How they operate, what their website is like and what the presence is, so you can ask intelligent questions about what the place is all about." he said.
"Some of the candidates I've interviewed in the past, the interview is more of a discussion where both parties are asking questions, which makes for a good interview."
The same goes for cover letters and resumes, according to Hight. Blanket cover letters and resumes show the lack of knowledge a candidate has for the company they are applying for.
"Pinpointing five to 10 places of where you want to go and showing you have done some research is very important."
"Social media presence is important. It shows that you have a credible presence — you know who your audience is and at least you use it as an entrepreneur and as someone who is seeking a position at a company," Hight said.
"I always encourage students to not only build your foundation, (but also) be involved in your school, be involved in your community." Hight said.
" That community is the field you're pursuing and also the community of your school. That is where you'll ultimately build some foundation and network that can help you in the future."