Johnson Seeks State Budget Reform, Marijuana Vote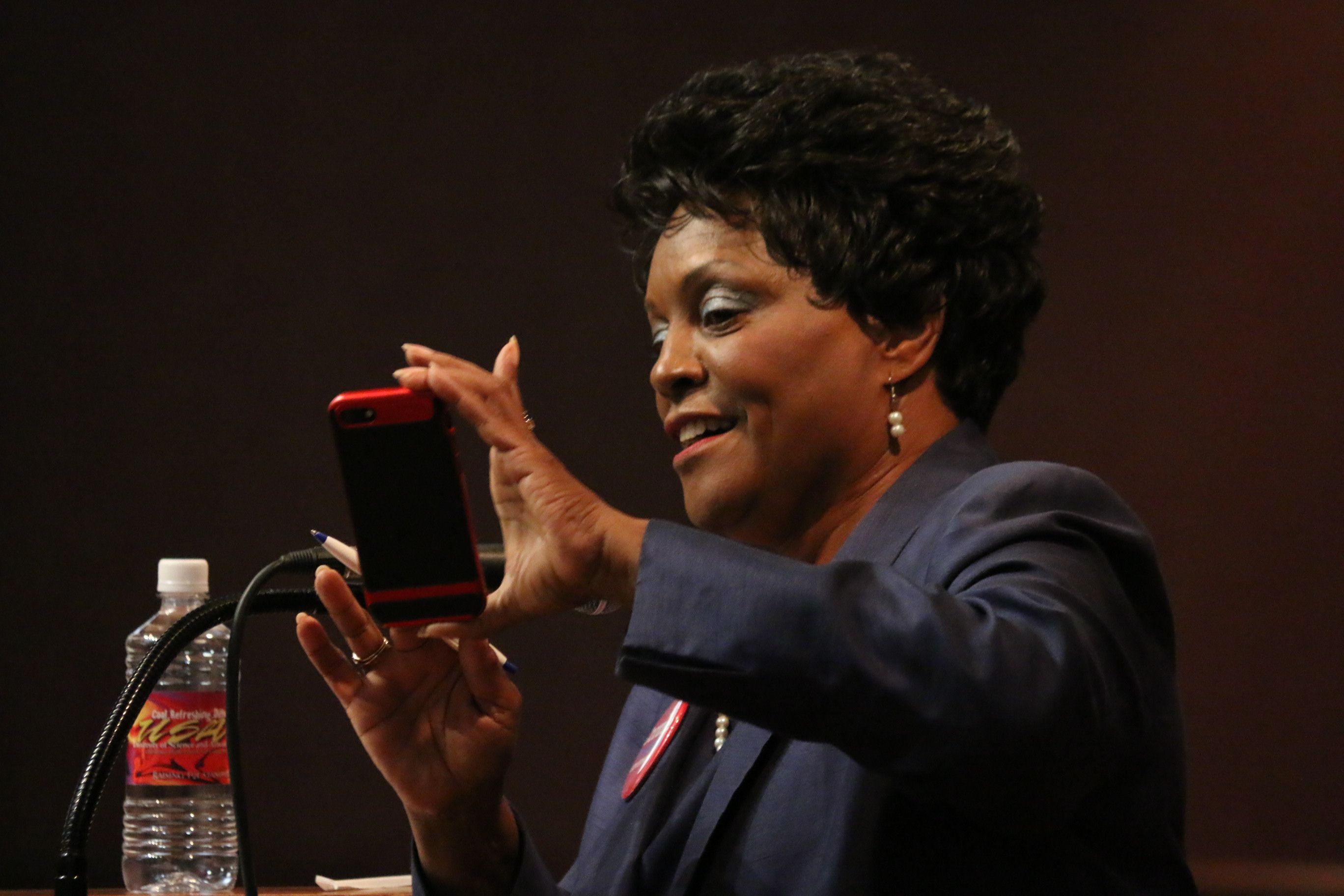 Democrat Connie Johnson stood behind the podium for USAO'S 'Meet the Candidate' forum and said she hopes to redo the state's budget and policies that are costing the state too much money.
"We don't want to pay our government to get them to do the things we want them to do," Johnson said.
Johnson said tax credits to certain industries are bankrupting the state.
"I don't think the citizens are really aware of how much money goes out the back door under privatization schemes," she said. "Like private prisons, private foster care or how we're trying to privatize services to the deaf and blind."
In Johnson's campaign,  it states Oklahomans need to acknowledge where the deficit is coming from and to look at alternative wind and energy sources. She also has an out of the box perspective: Being a Democrat in a red state.
"Let's talk about alternative agricultural sources, let's bring industrial hemp into Oklahoma." she said.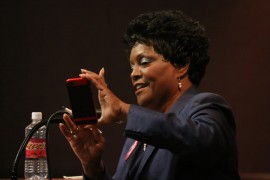 As a state Senator, Johnson served on the Senate Appropriations Committee and the Health and Human Services Appropriations Subcommittee.
She was the ranking Democratic member of the Health and Human Services Committee. She also served on Energy, Finance, Veterans, Public Safety, and Rules Standing Committees.
Johnson said Oklahoma should legalize marijuana. "Cannabis is a plant that has wonderful medicinal benefits," she said.
She said marijuana is a plant that we continue to demonize.
"We are not honoring those God-given resources," Johnson said. "We need to quit putting our eggs in the same basket."
Johnson said she's heard more deaths occur during intakes of opioids and alcohol versus cannabis. She said cannabis has more positives not only to certain health disorders but to our state's budget.  
"One acre of cannabis could raise $450,000 over a four year period," she said.
Some Oklahomans, disagree.
Local Janet Matthews, 56, said it could raise crime rates. "I just really think this is going to raise crime rates to an all time high." she said, "I mean isn't it legal in California and New York? Their crime rate is so much higher than ours. Pot's probably why."
Matthews believes that the younger generation will become lazier if it is more accessible to the community, and cause more issues.
"With all this craziness going on [in the world] they really need to step up and be working harder than ever." She said. "It's a drug, drugs are just bad, how do people not understand that?
"I've heard arguments, I've heard the pros — I just believe the cons far outweigh the pros. If we let her [Johnson] do this, it's the first step to a lot of terrible things," Matthews said, "it's a drug, drugs are just bad, how do people not get that?"
Johnson, like many residents, has concerns about cuts to health care spending. She said she feels healthcare is a right.
"It can take just one injury or disease to bankrupt a family under heavy healthcare costs." she said.
Johnson's priorities aren't on just one side of the ballpark. She plans to address multiple issues the state has 'turned an eye' to, such as the care for the state's veterans.
"We don't even care enough if veterans  have housing, or the care veterans deserve."
Johnson's passion for lowering the incarceration rate hits home, as her brother was a victim to murder.
"We lock up too many people instead of just treating them," she said.
Johnson is immediate past vice chair of the Oklahoma Democratic Party, and as the 2016-2017 Chair of the Oklahoma Coalition to Abolish The Death Penalty, she led the statewide campaign against State Question 776, which put the death penalty in the Oklahoma Constitution.
As Oklahoma serves as one of the highest for its incarceration rate, this leaves them limited.
Johnson hopes to re-establish voting rights to previous inmates or felony holders.
"If you have a felony in Oklahoma, however you served it, after 10 years, you can vote again."
Johnson's biggest hope is to educate her peers and to talk about the big things that keep us up late at night.
"Through education and strategy, lets just do it," she said.
With two daughters of her own, Johnson has concerns towards Oklahoma's educational system.
"Overworked and underpaid teachers affect the quality of education that students receive," she said. "Children are suffering from low morale in our education system." Johnson also said that Oklahoma is losing its good teachers, like a recent Oklahoma Teacher of the Year who moved to Texas due to cuts.
Johnson is aware of how different she is compared to the other candidates, but her priority is to get others out and voting. "We have the lowest voter turnout rate in the nation." Johnson said. "They forget to vote."
Johnson's wants to use the mail to encourage voting. While motivating her peers to vote, Johnson said she is grateful.
"I am a student, and teacher of the legislative process," she said. "I took a chance to research, and I took a $38,000 paycut to help."